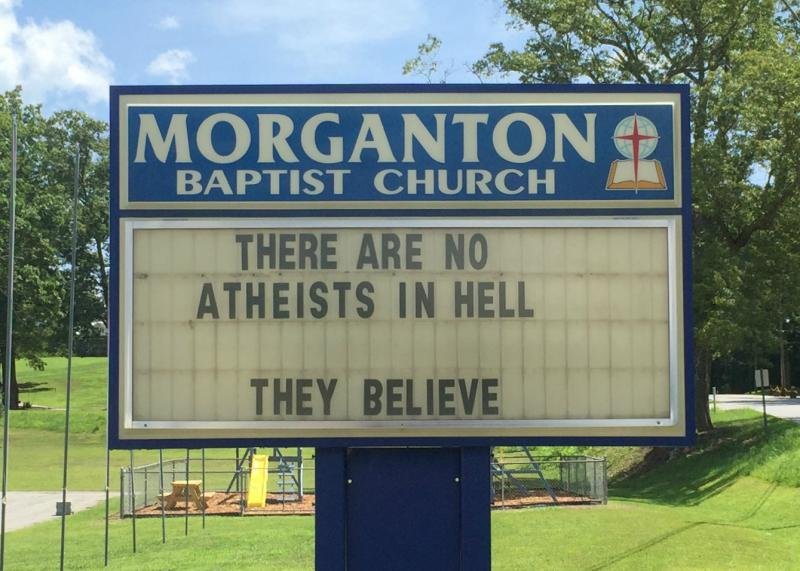 Over the past decade, I have received numerous emails from Evangelicals filled with Bible verses and warnings. These zealots want me to know that there is a special place in Hell for people such as myself. These threats and warnings are supposed to make me realize the error of my ways, leading me, then, to repentance and faith. What Evangelicals don't realize, however, is that this approach NEVER works. I don't believe in the existence of the Christian God, nor do I believe in the existence of Heaven and Hell. No God, No Hell, No Worries®. But Bruce, the BIBLE says . . . And your point is? The Bible says lots of things, but I reject its supernatural claims, including the notion that Jesus was the virgin-born son of God who was crucified on a Roman cross, resurrected from the dead three days later, and then ascended back to Heaven. I don't believe the teachings of the Bible as Evangelicals do, so threatening me with a bunch of Bible quotations doesn't work. I am immune to such proof-texting. In fact, I likely know more about the Bible and its teachings than the people quoting verses AT me. Come on, give me some credit for learning a thing or two over the 50 years I spent in the Christian church or the 25 years I spent in the ministry. I know the Bible inside and out. Yet, I reject its teachings and view it as no different from any other book. Sorry, Evangelicals, the Bible has no authority, power, or control over me.
Yesterday, Bill Wiese released a video warning to atheists. According to Wiese, today is the day of salvation. Death and Hell are coming, and we will one day regret not believing in Jesus. We may mock God/Bible now, Wiese says, but there is coming a day when we will bow our knees before Jesus and confess that he is the Lord of Lords and King of Kings. In other words, Jesus is gonna git you some day!
Wiese, who allegedly spent 23 minutes in Hell, said:
What is the price of a decision? I won't address those that mock the things of God, deny Him, or completely ignore His existence. Some of these people have no fear of Almighty God and have such arrogance toward Him. We all must be informed of what we will face one day. This is a loving message, because it's a message of warning. One day you will stand before the one and only, holy, awesome, eternal God in heaven with all His infinite power and His millions of mighty warrior angels at His side. On that great judgment day, God will reveal your every thought, action, and motive. Everything you have ever done will be shown to all and nothing will be hidden. You will be found guilty of your sins and you will have no excuse. There is a payment required for those sins. Did you trust in Jesus to pay for them?

You might not believe this now, but it says in Romans 14:11, "As I live sayeth the Lord, every knee shall bow to me and every tongue shall confess to God, so then every one of us shall give account of himself to God." Your knee will bow. You will then be drug off into an eternal hell by hideous, wicked demons and thrown into a furnace of fire for all eternity. It won't be God's fault. He warned you over and over throughout your entire life by sending people to tell you the way to heaven. In addition, we have the Bible, we have churches, we have the internet, TV, and radio proclaiming Jesus is Lord and Savior. He even gives dreams and visions to man to keep back his soul from the pit. As it says in Job 33, "but you ignored it all." You won't be able to accuse God of being unloving or unfair.
Wiese needs to realize, to quote Solomon, that there is nothing new under the sun. Most atheists have heard this kind of Christian drivel countless times. We know, we know, we know, and we — are you ready for it? — don't give a shit. We are confident that we have one life to live and then we die. End of story. No God. No Heaven. No Hell. No matter how often you threaten us, pray for us, or quote the Bible, the fact remains that we are atheists out of conviction. We are atheists because we have carefully examined and rejected the claims of Christianity. We are not ignorant or ill-informed. We know what you know, and more, yet we still say, nah baby nah, there is no God.
About Bruce Gerencser
Bruce Gerencser, 61, lives in rural Northwest Ohio with his wife of 40 years. He and his wife have six grown children and twelve grandchildren. Bruce pastored Evangelical churches for twenty-five years in Ohio, Texas, and Michigan. Bruce left the ministry in 2005, and in 2008 he left Christianity. Bruce is now a humanist and an atheist. For more information about Bruce, please read the About page.
Bruce is a local photography business owner, operating Defiance County Photo out of his home. If you live in Northwest Ohio and would like to hire Bruce, please email him.
Thank you for reading this post. Please share your thoughts in the comment section. If you are a first-time commenter, please read the commenting policy before wowing readers with your words. All first-time comments are moderated. If you would like to contact Bruce directly, please use the contact form to do so.
Donations are always appreciated. Donations on a monthly basis can be made through Patreon. One-time donations can be made through PayPal.