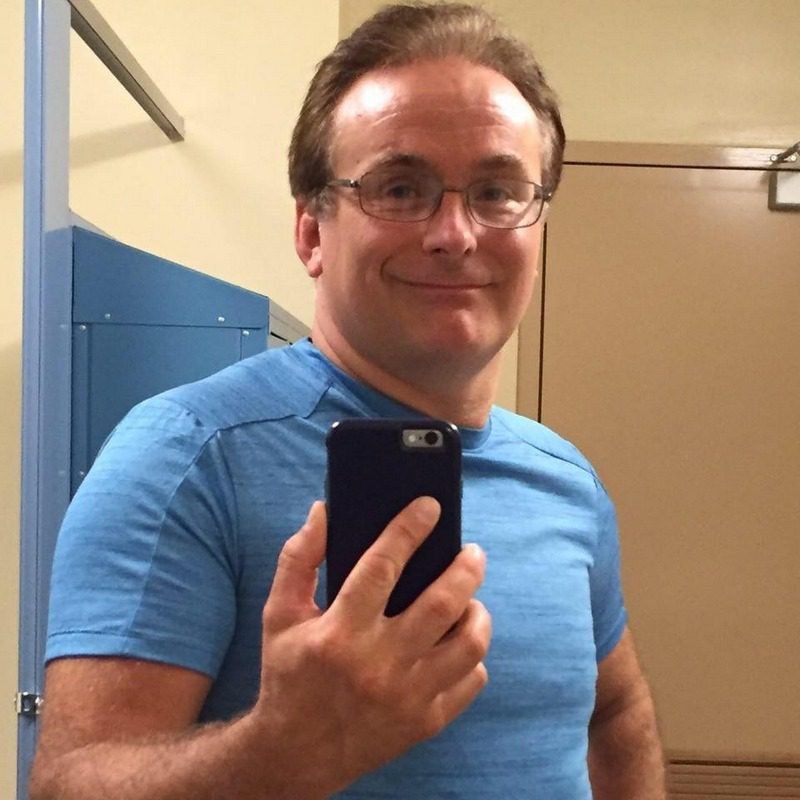 Eight years ago, I came in contact with a man by the name of Steve Gupton. Steve had been raised in the Independent Fundamentalist Baptist (IFB) church movement and attended Bob Gray's IFB college in the 1980s. Steve and I spent countless hours talking about shared past experiences and our attempt to forge a new path in life sans God. Several years ago, Steve went through a divorce and suffered through long periods of depression. I talked him off of the ledge on more than one occasion. Steve deeply loved his children, and had plans to get married this year. Polly and I planned to travel to North Carolina for the wedding, hoping to meet Steve face-to-face for the first time. Sadly, I will never get to meet my friend in the flesh. On Saturday, Steve, a physically fit martial arts instructor, suddenly died from a heart attack. He was fifty-one.
Steve commented hundreds of times on this blog. We traded messages on Facebook hours before he died. We chatted about IFB pastor Donnie Romero being forced to resign over cavorting with prostitutes, smoking weed, and gambling. And now, just like that, the voice of my friend is forever silenced.
Earlier this week, another internet friend of mine, Justin Vollmar, woke up to discover that his three-year old daughter Clarisa had died suddenly in her sleep. Clarisa was deaf and blind, and was loved dearly by her parents. Justin rarely commented on this blog, but he did credit me with helping him on his journey out of Evangelical Christianity. Justin was a pastor of an Evangelical deaf church before he deconverted.
Both of these deaths are a reminder to me of the brevity of life and how suddenly it can end. The Bible is right when it says: Boast not thyself of to morrow; for thou knowest not what a day may bring forth. (Proverbs 27:1)
My friend Steve will face one final indignity as he is laid to rest: an Evangelical pastor has been asked to hold the funeral service. Steve and I often talked about what we wanted when we died. Having a Bible thumper preside over our funerals was definitely not something either one of us wanted. I suspect Steve's IFB family is getting the last say on his funeral. Let this serve as reminder of the importance of putting into writing your last wishes.
Christianity offers the delusional hope that if people will just "believe" that they will be reunited someday in Heaven with their saved loved ones. As a Christian, I would have comforted myself with the promise of seeing Steve again. I would have comforted Justin with the promise that one day he would see Clarisa again and she would have a perfect body, one that could see and hear. Such promises are essential to Christian belief. Without the promise of a blessed afterlife, Christianity loses its power. People want to believe that there is more to life than the here and now; they want to believe that death is not the end; they want to believe that the family circle won't be broken in the sweet by and by. But life tells us a far different story — that death is certain and often comes when we expect it least; that death rips from us those we love, leaving only our memories. I wish it were different, but alas I must embrace reality, a reality that tells me I shall never see my friend Steve again; that Justin will never hold in his arms again his precious daughter. All we have are the memories of time spent with those we love. These untimely deaths are reminders, at least to me, that I should live life to its fullest and that I shouldn't put off to another day experiencing life with those I love. Most of all, I am reminded of my own mortality. Steve was physically fit and in good health, yet he's dead. Here am I with a broken-down, failing body. Dare I think for one moment that long life awaits me? As I helplessly watch, for the first time, my wife of forty years struggle with serious health problems, dare I think that we have forever in our future? No! We have today. We have now.
Let me conclude this post with the advice I give on my ABOUT page:
You have one life. There is no heaven or hell. There is no afterlife. You have one life, it's yours, and what you do with it is what matters most. Love and forgive those who matter to you and ignore those who add nothing to your life. Life is too short to spend time trying to make nice with those who will never make nice with you. Determine who are the people in your life that matter and give your time and devotion to them. Live each and every day to its fullest. You never know when death might come calling. Don't waste time trying to be a jack of all trades, master of none. Find one or two things you like to do and do them well. Too many people spend way too much time doing things they will never be good at.

Here's the conclusion of the matter. It's your life and you best get to living it. Someday, sooner than you think, it will be over. Don't let your dying days be ones of regret over what might have been.
About Bruce Gerencser
Bruce Gerencser, 61, lives in rural Northwest Ohio with his wife of 40 years. He and his wife have six grown children and twelve grandchildren. Bruce pastored Evangelical churches for twenty-five years in Ohio, Texas, and Michigan. Bruce left the ministry in 2005, and in 2008 he left Christianity. Bruce is now a humanist and an atheist. For more information about Bruce, please read the About page.
Bruce is a local photography business owner, operating Defiance County Photo out of his home. If you live in Northwest Ohio and would like to hire Bruce, please email him.
Thank you for reading this post. Please share your thoughts in the comment section. If you are a first-time commenter, please read the commenting policy before wowing readers with your words. All first-time comments are moderated. If you would like to contact Bruce directly, please use the contact form to do so.
Donations are always appreciated. Donations on a monthly basis can be made through Patreon. One-time donations can be made through PayPal.