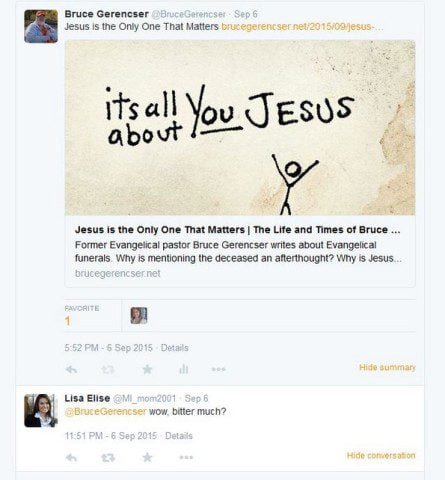 Repost from 2015-2016. Edited, updated, and corrected.
What follows is a brief discussion I had on Twitter with a Christian by the name of Lisa Elise. Lisa objected to what I wrote in the post Jesus is the Only One That Matters. Like all such discussions, this one ended with a threat and silence. Usually, I don't respond to tweets from Christians. Twitter discussions with Christians are 100% of the time, each and every time, an exercise in futility. In Lisa Elise's case, I thought I'd tweet a bit and see what came of it.
Lisa: Wow, bitter much?
Bruce: Ah, bitterness, the first word used by zealots to marginalize a person and dismiss their argument out of hand . . . what's next? Anger, jaded, hurt? Anything but engaging the person's argument.
Lisa: Or. . .You just seem bitter. Btw, liberals are the EXPERTS at marginalizing those who disagree with them.
Bruce: I just spent the day with my wife of 37 years, six kids, ten grandkids. Such a bitter experience I have without your Jesus.
Lisa: Then go to bed and relax. You seem quite angry and bitter, attacking a dead person and a person u don't know on Twitter.
Bruce: Public writers, public critique, that's the way it works. Want a private life? Don't put stuff on the Internet.
Bruce: Evangelicals seem to get butt hurt anytime someone pushes back at their beliefs and ideas. Don't like it? Turn off the Internet
Bruce: I believe you tweeted me, yes? I didn't attack you. I challenged your faulty judgment. Doesn't the Bible say you should refrain from judgment until you know a matter?
Lisa: U should know. U preached the Bible most of ur life, things didn't go the way u wanted. Now u mock those who believe what u did.
Bruce: Critique, not mock. A fair number of Christians read my writing and find it helpful.
Bruce: I don't have a prob with critique. Plenty of it on the Internet, including sermons that have been preached about me.
Lisa: You'll meet Jesus 1 day. What a tragedy, to have preached him all your life & denied him in the end.
Bruce: Ah yes, the parting threat of judgment and hell. Sorry, I do not fear. 8 years of people like you have made me immune to threats.
Lisa: When u preached the gospel all ur life did u see it as threatening people with hell?
Bruce: Of course it is a meaningless threat. No God, no hell. The only person I fear is my wife.
Lisa: Why would u preach a false threat for 25+ yrs, yet now mock those who believe same thing? Seems strange.
Bruce: At the time I believed it to be true. New evidence, new conclusions.
Lisa: Evidence? Constantly criticizing those who don't yet have your new found "evidence". Hmmm.
Bruce: Evidence meaning investigating the claims Christians make for the Bible . . . evidence meaning taking a fresh look at Christian belief and practice. Held up to the light of skepticism and reason, Christian belief comes up short.
Bruce: Constantly? A few hours a day is constantly?
Bruce: The Bible is not what Christians claim it is. Once free of its bondage and authority, I was free to see life in a new light.
Lisa: Bible can be hard to understand. Yet makes more sense than ANYTHING the world offers as answers to my existence.
Bruce: I don't find it hard to understand. Spent thousands of hours reading and studying it, preaching over 4,000 sermon. But, by all means, show me that my reasoned conclusions are incorrect. And show me doesn't mean quoting the Bible.
Bruce: 8,000,000 people think Mormonism make sense, yet Evangelicals consider them a cult. Hundreds of millions of people say Islam makes sense, yet Evangelicals say it is a false religion. When it comes to our existence, all we can know is what we see.
Bruce: Anything else requires faith, a faith I do not have. The central claim of Christianity is that a dead Jesus came back to life.
Bruce: Everything I see and know tells me this is not true. Feel free to believe this by faith, but I shall not do so without proof.
Silence
Rapture?
Silence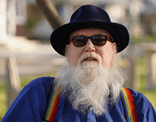 Bruce Gerencser, 65, lives in rural Northwest Ohio with his wife of 44 years. He and his wife have six grown children and thirteen grandchildren. Bruce pastored Evangelical churches for twenty-five years in Ohio, Texas, and Michigan. Bruce left the ministry in 2005, and in 2008 he left Christianity. Bruce is now a humanist and an atheist.
Connect with me on social media:
You can email Bruce via the Contact Form.
Your comments are welcome and appreciated. All first-time comments are moderated. Please read the commenting rules before commenting.