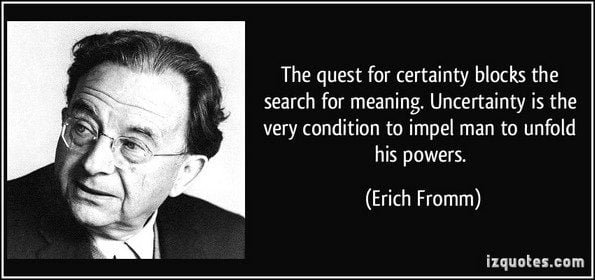 CERTAINTY
The fact, quality, or state of being certain: the certainty of death.
Something that is clearly established or assured.
SYNONYMS certainty, certitude, assurance, conviction. These nouns mean freedom from doubt. Certainty implies a thorough consideration of evidence: "the emphasis of a certainty that is not impaired by any shade of doubt" (Mark Twain). Certitude is based more on personal belief than on objective facts: "Certitude is not the test of certainty" (Oliver Wendell Holmes, Jr.). Assurance is a feeling of confidence resulting from subjective experience: "There is no such thing as absolute certainty, but there is assurance sufficient for the purposes of human life" (John Stuart Mill). Conviction arises from the vanquishing of doubt: "His religion . . . was substantial and concrete, made up of good, hard convictions and opinions. (Willa Cather).
Ah yes, Certainty.
One of linchpins of Evangelical Christianity is certainty.
I KNOW in whom I have believed, said the Apostle Paul.
I have a KNOW–SO salvation, a line spoken by countless Baptist on Sunday mornings.
Doubt is of the Devil.
Saved or Lost.
Heaven or Hell.
Truth or Error.
Infallibility.
Inerrancy.
A supernatural God who wrote a supernatural book that speaks of a supernatural salvation.
You can know for sure_______ (fill in the blank with a theological premise).
If you died today would you go to Heaven?
If there is one error in the Bible then none of it is true.
Yet, for all the Christian-speak about certainty, real life suggests that certainty is a myth.
We live in a world of chance, ambiguity, and doubt.
Will I die today?
Will I have a job tomorrow?
Will I be able to walk a year from now?
What does the future hold for my spouse, children, and grandchildren?
Climate change?
War?
Environmental degradation?
Pandemics?
Who will win the Super Bowl?
Will my garden flourish?
Will I get lucky tonight?
Life is anything but certain.
Evangelical Christians offload the uncertainties of this life to a certain future in Heaven with Jesus. No matter how uncertain the present is, Evangelicals can, with great certainty, KNOW Heaven awaits them.
One problem though . . .
No one KNOWS for sure there is a Heaven.
No one has been to Heaven and returned to earth to give us a travel report (and those who say they have are either lying or out to make a quick buck).
The Heaven most Evangelicals believe in isn't even found in the Bible. Most Christians have a mystical, fanciful, syrupy, non-Biblical view of Heaven.
Grandma really isn't in Heaven right now running around praising Jesus. According to the Bible, Grandma is presently rotting in the grave awaiting the resurrection of the dead.
I don't know if there is a Heaven.
I have my doubts, lots of doubts.
I'm inclined to think Heaven is a state of mind. Or West Virginia.
We all want to believe life matters.
Many of us want to believe that there is more to life than what we now have.
We want to believe there will someday be a world without pain, suffering, or death.
But, what if there is not?
What if this is it?
What if we truly only have hope in this life?
Should we not make the most of what we have NOW?
Perhaps we should take seriously the Bible admonition not to boast about tomorrow because we don't know what the day will bring.
Heaven will wait.
Live.
You and I are given one life and it will soon be past.
Live.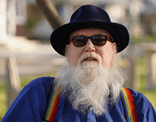 Bruce Gerencser, 65, lives in rural Northwest Ohio with his wife of 44 years. He and his wife have six grown children and thirteen grandchildren. Bruce pastored Evangelical churches for twenty-five years in Ohio, Texas, and Michigan. Bruce left the ministry in 2005, and in 2008 he left Christianity. Bruce is now a humanist and an atheist.
Connect with me on social media:
You can email Bruce via the Contact Form.
Your comments are welcome and appreciated. All first-time comments are moderated. Please read the commenting rules before commenting.