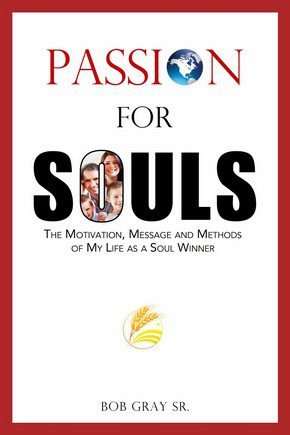 Snark ahead, you've been warned!
I ask you dear reader, do you care about lost and dying souls? If so, Bob Gray Sr., retired pastor of Longview Baptist Temple in Longview, Texas, has a book or two he'd like to sell you. According to his blog, these books are so important that NOT buying them will result in more souls being lost for eternity. According to Gray:
…There are 400,000 plus churches of all types in our nation. If the Bible believing local churches would sharpen their soul winning tools and organize a strong Sunday School system we would see a reversal of our outreach to our worlds. Jesus is coming soon and we must have a second mile kick in order to finish our portion of the race for souls.

You can call xxx-xxx-xxxx or xxx-xxx-xxxx or email xxx@juno.com or xxx@me.com to order.  Do not put this off. The longer you delay the more souls we will lose. This one-two punch will help your local church in your outreach in your world.
Gray warns fellow Independent Fundamentalists Baptists (IFB) about the soon return of Jesus. Isn't this same sorry trope IFB preachers have been using for decades in an attempt to light a fire under complacent church members?  Evidently, IFB churches are in a race and these books will help them start running faster so they "finish their portion of the race for souls." Who are they racing against? Satan? Catholics? Muslims? Southern Baptists? Or is this just a Madison Fifth Avenue ploy to sell self published books?  Guilt+fear=more book sales.
The first book is written by David Hyles. Yes, THAT David Hyles. Titled, Jack Hyles' Passion for Sunday School: Philosophies and Principles that Shaped His Pastoral Ministry, this book is all about the importance of having a Sunday school. And not just any Sunday school, but a Sunday school just like Jack Hyles had at First Baptist Church in Hammond, Indiana. (Please read The Legacy of Jack Hyles if you are not familiar with him) I think it is safe to say that this book will NOT mention Jack Hyles' passion for his secretary or David Hyles' passion for anyone wearing a skirt.
The second book is written by Gray. Titled, Passion for Souls: The Motivation, Message, and Methods of My Life as a Soulwinner, it details Gray's soulwinning passion and methodology. Jeff Fugate, pastor of Clay Mills Road Baptist Church in Lexington, Kentucky, had this to say about the book:
"This book is in my opinion the BEST book I have ever read on the matter of personal soul winning. It is encouraging, instructive, enjoyable and convicting. I recommend this book to new Christians as well as to seasoned soul winners. Thank you Dr. Gray for your example of personal soul winning and for putting your life's work into this book."
"I'm thrilled that you are holding in your hands right now, this tremendous bound volume, "My Passion For Soul Winning" by my dear friend, Dr. Bob Gray, Sr.

I've said, as Andrew was the Apostle of Personal Workers in the days of the early church, Dr. Bob Gray, Sr. is the "Apostle of Personal Workers" in the present church"

Here is a principled fundamentalist, powerful preacher, published author and proficient soul winner, who has not only lead tens of thousands to Christ but also has trained and tutored tens of thousands of personal soul winners.

In this bound volume you will find the drive, desire, duty, determination and demeanor, of one, without question, of the most successful personal soul winners of our day.
The IFB church movement is dying on the vine. Countless churches have closed their doors and others face steep attendance decline.  IFB colleges that once had burgeoning enrollment now have a hard time keeping the doors open. You'd think that someone, anyone, would stop and ask WHY this is? Some IFB preachers blame worldliness, a catch-all phrase for church members who love HBO more than they love Jesus. Others develop a persecution complex, thinking that liberals, Obama, socialists, Democrats, Catholics, Southern Baptists,other IFB preachers who aren't in their camp, and a host of other groups and people they demonize, are actively working against them.
The fault lies with everyone but them. Instead of recognizing that their "motivation, message, and methods," no longer work, they just keep doing the same thing over and over and over hoping for a different outcome. They continue to preach against the same "sins" they were preaching against 40 years ago. The difference now is that it is harder to find people who are willing to be assaulted week in and week out with the King James bible.
Gray will surely sell some books. The IFB church movement is quite incestuous, so big name IFB preachers preach for one another, give each other doctorates, and buy each other's books. It is a wheel that keeps on spinning…
If you are interested in buying a copy of Gray's books, you can purchase them at Solve Church Problems.