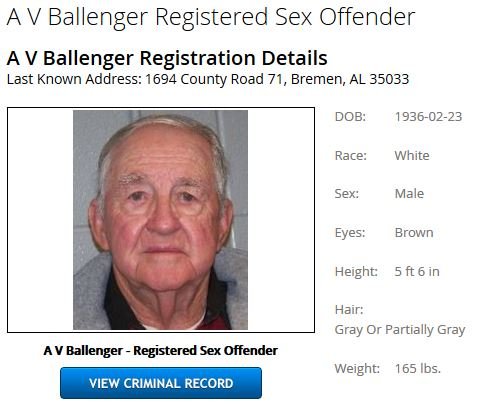 For many years, especially during the decades the church was pastored by Jack Hyles and Jack Schaap, First Baptist Church of Hammond, Indiana was the spiritual home for countless sexual predators and con artists. Most evaded detection thanks to cover-ups orchestrated by the fearsome, loyalty-demanding Hyles.
The scandals and stories are many, yet to this day more than a few Independent Fundamentalist Baptists (IFB) unquestionably believe that most of sordid tales are lies manufactured by those who hate Jack Hyles and have it out for the church. No amount of evidence will convince them otherwise.
Personally, I have given up trying to talk sense to Hyles' loyalists. When Hyles himself was accused of sexual and ministerial misconduct, his sycophants wore buttons that said 100% HYLES. Today, the thinking that led to the buttons remains alive and well. The nastiest commenters I have ever dealt with on this blog are the followers of Jack Hyles. No matter how many sick stories emanate from the darkest corners of First Baptist in Hammond, Jack Hyles, who paved the way for his preacher son to prey on church women, his pastor son in-law to take sexual advantage of a church teen, and for deacons, Sunday school teachers, bus workers, and Hyles-Anderson preacher boys to sexually assault children and vulnerable adults, remains, in the eyes of many, above reproach. For whatever reason, the devoted followers of Jack Hyles are unable to make the connection between Hyles — their demigod — and the doctrines, beliefs and practices that facilitated criminal behavior
Almost twenty-five years ago, well-known First Baptist deacon A.V. Ballenger was convicted of sexually molesting a seven-year-old church girl. Three other women testified at Ballenger's sentencing that they too had been molested by him. Tamiko Grace was one of the women who testified.
Yesterday, the Northwest Times published a story written by Steve Garrison detailing Grace's story:
Tamiko "Tammy" Grace told The Times last week it was the grace of God that allowed her to forgive the former church employee she said molested her when she attended First Baptist Church in the mid-1970s.

Grace, a 44-year-old mother of three children, said she was molested when she was 5 years old by A.V. Ballenger, a former church deacon convicted in March 1993 of molesting a 7-year-old girl in 1991 during a Sunday School class at the Hammond church.
….
Grace was one of three women who testified they were abused as children by Ballenger at the former deacon's sentencing hearing in June 1993, according to The Times archives.

Grace told The Times last week that Ballenger groped her repeatedly when he was a school bus driver for the church.
"I didn't know it was wrong," she said. "I was so young, I just thought it was love."

Ballenger maintained his innocence at the sentencing hearing and claimed the women, one of whom was his own niece, testified for sympathy and attention, according to the archives.

Grace said she instead testified due to the guilt she felt for not coming forward sooner. She was 22 years old and had a young child when she finally reported the incident to authorities. She feared she could have saved other girls from abuse if she had reported it sooner.

"This was my chance to make the wrong right," she said.

Ballenger was sentenced to five years in prison, court records state. The 81-year-old now lives in Alabama, according to the state's sex offender registry. He could not be reached for comment.

Grace said she struggled for years to deal with the shame she felt as a result of the molestation, but she attended therapy and continued to find strength in God.
You can read the entire article here.
If you are not familiar with Jack Hyles and First Baptist Church, please read the articles below.
The Scandalous Life of Jack Hyles and Why it Still Matters
UPDATED: Serial Adulterer David Hyles Has Been Restored
Serial Adulterer David Hyles Receives a Warm Longview Baptist Temple Welcome
David Hyles Says 'My Bad, Jesus'
The Mesmerizing Appeal of Jack Hyles
Jack Hyles Teaches Parents How to Indoctrinate Their Babies
Jack Hyles Tells Unsubmissive Woman to Kill Herself
Jack Hyles Gives Advice on How to Raise a Girl
1991 Current Affairs Report: Jack Hyles Stole My Wife
In 2013, Chicago Magazine published a lengthy article on the plethora of sexual predators and abuse problems associated with First Baptist Church. You can read the article here.
Bruce Gerencser, 66, lives in rural Northwest Ohio with his wife of 45 years. He and his wife have six grown children and thirteen grandchildren. Bruce pastored Evangelical churches for twenty-five years in Ohio, Texas, and Michigan. Bruce left the ministry in 2005, and in 2008 he left Christianity. Bruce is now a humanist and an atheist.
Connect with me on social media:
Your comments are welcome and appreciated. All first-time comments are moderated. Please read the commenting rules before commenting.
You can email Bruce via the Contact Form.