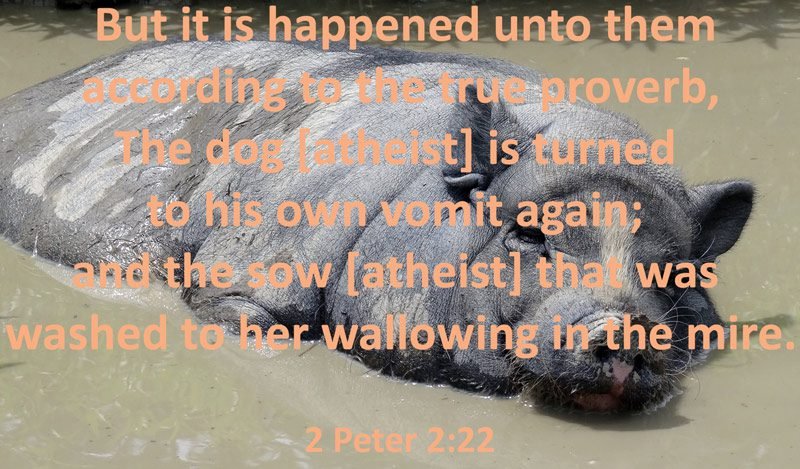 I just love it when Evangelicals tell the world what it is atheists believe and how they live their lives. One such Evangelical is SpaniardVIII, a man obsessed with dissembling about atheism. He has been publicly challenged and corrected over and over again, but as sure as the sun comes up in the morning, SpaniardVIII will be right back at it, slandering atheists and misrepresenting atheism. Evidently, his Bible does not contain the verse that says, "Thou shalt not bear false witness."
Today, Spaniard VII asserted:
Look, their [atheists] so-called no evidence for God cry is so outlandish that in reality, they don't reject God for no evidence [for there is an abundance of it], but their rejection of God is based solely on emotions. They cannot comprehend how God can bring judgment on any nation.

The reason an atheist cannot understand what righteous judgment is, because they reject what sin stands for. For them, sin is a way of life which they love to wallow in like a swine to mud. The world which comprises of people like atheists [haters of God] and those who want nothing to do with Jesus or the real Jesus have a deep hatred for God's punishment on sin because that is why they live for. The heart of the world is pure darkness and devoid of anything good that pleases God.

….

John 3:19-21 [Emphasis Added]

19 "This, then, is the judgment: The light [Jesus who is the truth] has come into the world, and people [like the atheists] loved darkness rather than the light because their deeds were evil. 20 For everyone who practices wicked things [through the lust of the flesh] hates the light and avoids it, so that his deeds may not be exposed [to hide their true intentions]. 21 But anyone who lives by the truth [those who believe in Jesus Christ and hold on to God's Word] comes to the light, so that his works may be shown to be accomplished by God."
SpaniardVIII thinks that when atheists ask for evidence of the existence of the Protestant Christian God of the Bible, what we are really doing is trying to cover up our deep-seated desires to "sin." No matter how often Evangelicals-turned-atheists tell their stories and attempt to explain why they no longer believe in the existence of God, Evangelicals such as SpaniardVIII will dismiss their testimonies and explanations out of hand. There has to be some OTHER reason for our loss of faith, they wonder. What could it be? Sin! (Please see the posts on the WHY? page)
I can't even begin to number the times one Evangelical apologist or another has told me that the reason I left the ministry and later left Christianity was due to some sort of dark, secret sin in my life; that if the truth was told about me, everyone would see that I never was a Christian. And so the deconstructions go . . .
SpaniardVIII is right when it comes to how atheists view the notion of "sin." Sin is a religious construct, and as such, atheists reject it out of hand. For Evangelicals, sin — supposedly — is transgression of the law of God (I John 3:4). I say supposedly because no two Christians agree on what exactly constitutes the law of God. The Ten Commandments? The Nine Commandments? The 613 Laws in the Old Testament? The New Testament? The Old and New Testaments? Or, perhaps the antinomians are right, and none of the Law of God is applicable in this present day of grace.
Take any behavior called "sin" — a sin such as homosexuality — and you will find diverse Evangelical opinions on the matter. Evangelicals are increasingly divided on homosexuality, with many Christians embracing inclusivism and equal protection under the law, while others believing the Bible clearly teaches that homosexuality is a heinous sin against God and humanity, one worthy of severe punishment. Some Evangelicals even think that LGBTQ people should be rounded up, incarcerated and, in some cases, executed! Both sides of this debate appeal to God and the Bible as justification for their position. Who is right? If Evangelicals can't agree amongst themselves over what is and isn't sin, why should the unwashed, uncircumcised Philistines of the world listen to them?
Of course, SpaniardVIII is a special, short-bus kind of Christian. He's a Bible-believer®, a literalist who knows exactly which human behaviors are sins and which are not. Want to know if something is a sin? Just ask him. And in doing so, SpaniardVIII, in effect, becomes God. He confuses his peculiar interpretation of a fallible, errant, contradictory ancient religious text with the voice of God. SpaniardVIII believes God talks to him, thus affirming that his interpretations of the Bible are "truth." In any other setting, hearing voices lands you in a psych ward, but because the voice is supposedly the one true and living God, it's considered perfectly "normal" not only hear God's voice, but to have conversations with him.
Thus, atheists look at the Evangelical notion of "sin" and objective morality and laugh. Not only do Evangelicals not have an exclusive standard of morality, but their lives betray the fact that they do not practice what they preach; that they are works in progress; that they are not perfect. Never mind the fact that the Bible Evangelicals say they believe says that Christians are to be perfect even as their Father in Heaven is perfect (Matthew 5:48). Never mind the fact that the same Bible says that Christians have the same mind as Christ (I Corinthians 2:16). Never mind the fact 1 John 3:8 says: He that committeth sin is of the devil; for the devil sinneth from the beginning. Do Christians sin? Yes, in thought, word, and deed. Do Christian men look at women with lust in their hearts; even SpaniardVIII? Yes! Then, they are, as the Bible says, adulterers (Matthew 5:28). And, drumroll, please, the Bible says that people who commit adultery and other sins will NOT inherit the Kingdom of God. Take Galatians 5:19-21:
Now the works of the flesh are manifest, which are these; Adultery, fornication, uncleanness, lasciviousness, Idolatry, witchcraft, hatred, variance, emulations, wrath, strife, seditions, heresies, Envyings, murders, drunkenness, revellings, and such like: of the which I tell you before, as I have also told you in time past, that they which do such things shall not inherit the kingdom of God.
Sure sounds like a lot of Christians I have encountered over the years. Much like SpaniardVIII, they rail against the "sins" of others, condemning them to hellfire and brimstone, all the while hiding their own sins behind the "precious" blood of Jesus. Countless Evangelicals have committed horrible crimes (See Black Collar Crime series), yet all they need to do to find complete, unconditional forgiveness is follow 1 John 1:9: If we confess our sins, he is faithful and just to forgive us our sins, and to cleanse us from all unrighteousness. Just confess and forget, baby!
I am sure you have seen the glaring contradictions between the aforementioned Bible verses. Which is it? Is forgiveness from sin and a new lease on life just a prayer away? Or are Christians who sin of the devil, and will not inherit the Kingdom of God? You see, when you appeal to the Bible as an infallible standard of right behavior, contradictions abound. SpaniardVIII, then, is forced to play Bible Gymnastics©, hoping to escape drowning in the Sea of Contradiction®.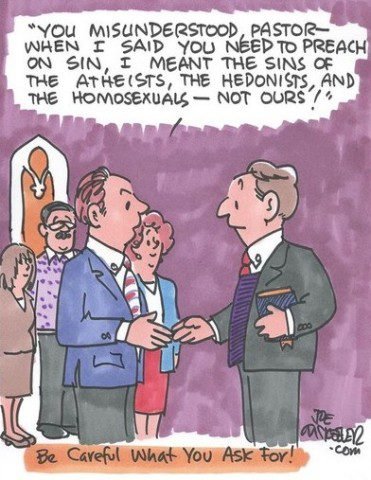 It is for these reasons and others that atheists reject the notion of "sin." Now, this doesn't mean that atheists don't have moral and ethical standards — they do. SpaniardVIII's Bible literalism and entrenched Fundamentalism keeps him from thinking critically and objectively about morality. Instead, morality is reduced to "The Bible (or my interpretation thereof) says ________." Atheists and other non-believer are forced, on the other hand, to think and reason about human behavior. What is "good" and "bad" behavior? How do we determine which behaviors are which? This usually leads to thinking about the objective and subjective nature of morality and human behavior. For example: is sex between consenting unmarried adults wrong? SpaniardVIII would say, absolutely, the Bible says ________. Atheists, however, would need more information before saying whether this behavior is wrong. Atheists, with their rejection of religion-based moral standards, are forced to critically think about human behavior. It's not that atheists — most of them anyway — are hedonistic libertines. We just have standards of human behavior that differ from that of moralizers such as SpaniardVIII.
Now, SpaniardVIII asserts — again, without evidence — that atheists reject Bible-based morality because they want to wallow in sin. Is this true? Are atheists really the "sinners" SpaniardVIII portrays them to be? Sure, some of them are, but then the same thing can be said about Evangelicals too. As with any group, human behavior varies within the group. Some atheists are awful people, but I can tell you this after a decade of interacting with the godless: most of them are thoughtful, loving, caring people. Sure, they can, at times, do bad things, but the general arc of their lives is towards the humanist ideal. Unlike Evangelicals, atheists don't have a Get Out of Sin Jail Free card. All atheists can do is admit their bad behavior and do what they can to make restitution. We don't need a middle man — God — to get between us and people our behavior has harmed. Our goal is to be better people today than we were yesterday.
SpaniardVIII's atheists-love-to-sin straw man is rooted in his need to project moral superiority. The fact remains that atheists generally want to be good and decent people. I know this is hard for Evangelical zealots to rationalize, but most atheists just want to live and let live. We want to work, enjoy life, love our spouses, children, and grandchildren, make a difference in the world, and watch some football on TV, if we are so inclined. Our rewards come in this life, not the life to come.
I suspect that most atheists' lives compare quite favorably to those of Christians. Outside of my language being a bit — okay, a lot — more colorful and my TV viewing habits having changed, my life is not much different from when I was a pastor. The difference, of course, is that my "sin" list is much smaller — 3×5 card — and I no longer negatively judge others who behave differently from me. I am a heterosexual man. I don't "understand" same-sex attraction. However, I don't need to. You see, whom people love, marry, or fuck is none of my business. I don't have to "understand" someone's life in order to respect and understand them. Take SpaniardVIII. If he was content to quietly and privately live his life according to his interpretation of the Bible, I would have no objection. Each to his own, I say. As long as someone is not harming others — and therein is the rub with Evangelicalism — or forcing them to live by their moral standard, I am fine with how he or she wants to live. However, this is not how SpaniardVIII lives his life. Oh no, he demands that his religion and moral standard be lived by everyone. He genuinely believes that his thoughts and words are "solely based on scripture and not on anyone's opinion or theology but only on what scripture clearly reveals with the help of the Holy Spirit." Thus, he feels justified in demanding everyone bow in fealty to his God.
It is at this point that atheists push back. We demand evidence for SpaniardVIII's claims, yet none is forthcoming. Instead, he offers up Bible prooftexts and personal opinions and interpretations. Atheists don't reject his moralizing because they want to wallow in sin. Far be from it — though wallowing can be a lot of fun. We reject the messenger and his message. We see through the man and his beliefs. SpaniardVIII wrongly thinks that atheists say to themselves, " We will not have this God rule over us," when in fact, what we are saying is this: "We will NOT have SpaniardVIII and his contradictory, anti-human interpretations of a Bronze Age religious text rules over us." We are free, and we intend to stay that way! Having left the bondage and paucity of Egypt and finding intellectual and personal freedom in the Land of Canaan, we have no intention of returning to the fish, cucumbers, melons, leeks, onions, and garlic of Egypt. It's not that atheists want to "sin." They have just found a better way to live — living that doesn't require obedience to a mythical deity and an irrelevant religious text. And THAT'S what pisses off the SpaniardVIIIs of the world. They look over the proverbial fence and see atheists living the good life and they can't help but yearn to join us. But they can't. As long as they believe in the Evangelical God, lives of repressive self-denial are expected lest they find themselves under the chastisement of God. The issue here, then, is not atheists wallowing in "sin" — it's envy; Evangelicals secretly wishing they could "sin" too. To that I say, come join us! I promise you that atheists really aren't child molesters who eat fetuses offered up in worship to Satan. We are everyday people who love life, knowing that this is the only one we will ever have.
About Bruce Gerencser
Bruce Gerencser, 62, lives in rural Northwest Ohio with his wife of 41 years. He and his wife have six grown children and twelve grandchildren. Bruce pastored Evangelical churches for twenty-five years in Ohio, Texas, and Michigan. Bruce left the ministry in 2005, and in 2008 he left Christianity. Bruce is now a humanist and an atheist. For more information about Bruce, please read the About page.
Are you on Social Media? Follow Bruce on Facebook and Twitter.
Thank you for reading this post. Please share your thoughts in the comment section. If you are a first-time commenter, please read the commenting policy before wowing readers with your words. All first-time comments are moderated. If you would like to contact Bruce directly, please use the contact form to do so.
Donations are always appreciated. Donations on a monthly basis can be made through Patreon. One-time donations can be made through PayPal.