I want to share with readers several emails I received from a Fundamentalist Christian named Matt Nye. Nye is of the opinion that people reject Christianity and become atheists because they are sexual deviants. I hope you find his emails instructive. Pay particular attention to the fact that Nye tells me he is 21 years old and that he became a Christian after years as a porn-loving atheist/agnostic. My God, they must start watching porn quite young where he lives! Besides, since he was an atheist before he became a Christian, doesn't this mean that he was a sexual deviant too?
One of Nye's favorite preachers is Tim Conway, pastor of Grace Community Church in San Antonio, Texas. I wonder if Nye is aware that I once was Conway's pastor? Imagine, one of his favorite preachers had an unsaved, sexual deviant as his pastor. Gotta love the irony, right?
Based on several posts on his now-defunct blog, Matt Nye is a Calvinist. As a card-carrying member of the John Calvin Club, surely Nye knows that God has decreed and predestined me to be an arch-enemy of Christianity. And since I cannot overthrow the plan God chose for my life from before the foundation of the world, it's God's fault, not mine, that I'm a sexual deviant.
I hope you will also note in the one email that Nye asks me to watch one of convicted felon Kent Hovind's seminars. Ken Hovind attended Midwestern Baptist College, the same college I attended in the 1970s. According to Wikipedia, in 2007, Hovind was "convicted of 58 federal counts, including 12 tax offenses, one count of obstructing federal agents, and 45 counts of structuring cash transactions" and sentenced to ten years in prison. In July 2015, Hovind was paroled. Now out of prison, Hovind, also known as Dr. Dino, has returned to his calling, preaching the gospel of young-earth creationism.
Here's email number one:
Hi.

I noticed you said you left the Christian faith and are now an atheist. I have a question for you though. Before I ask you it, we have to define what a born-again Christian is. A born-again Christian is someone who knows the Lord, evidenced by 1 John 2:4.

So my question to you is this, did you know the Lord?

This presents a serious problem for you, because if…

A)… you say "Yes" then you are admitting there is a God and creator, but you walked away from him.

B)… you say "No", then you are proving that you never were a Christian.

I don't mean to sound condescending and I'm sure being a former pastor you know the scriptures more than a 21-year-old like myself, but according to 1 John 2:19 "They went out from us, but they were not of us; for if they had been of us, they would have continued with us. But they went out, that it might become plain that they all are not of us."

You've had a false conversion my friend. I ask you to consider these things seriously because eternity is a long time to be wrong.
Email number two:
Hi Bruce.

To be honest, I don't know you at all personally, as I am a nobody who stumbled across your site.

What I'm asking you to consider is this, were you truly "born-again"?

I was a false convert until the age of about 20 when the Lord opened my heart and saved me.

I'm willing I can describe your situation all those years. The "church" or "worship" part of Christianity is this "grit-your-teeth" sort of feeling. There's also a sense deep within that you are rebelling against something. Like this energy within you that is fighting against something. I can assure you that "inner-rebellion" is completely gone. The only thing left is my sinful flesh which is dying little by little. Theology or preaching must have been your #1 thing while Jesus was just some accessory.

As I've said before, I don't know you personally, but I assure you that the main reason people reject Christianity and become atheist is because of a sexual deviance. (Jude 1:18 "How that they told you there should be mockers in the last time, who should walk after their own ungodly lusts.") Pornography is a big one. It was with me. I actually was atheistic/agnostic for some years and then intellectually became a Christian again, or "returned from a back-slidden state" thinking I was still saved. But when God saved me for REAL, he really revealed himself. Christianity isn't a mental acknowledgement of the facts. Saying a sinner's prayer and trusting in the prayer won't do it.

Sir, I've had too many prayers answered to know that this isn't just a coincidence. There really is a God. I plead with you, regardless of what you've heard about Kent Hovind. Watch one of his seminars and just think to yourself "Ok, there's a chance I could be wrong, so I'll be open minded" Eternity is too long to be wrong.
Email number three:
I'm amazed at how atheists can be so emotional over something they don't believe in. I'm only spending my time to e-mail because I truly care about you, not to be condescending.

When you look at the Venus Fly Trap or any other Carnivorous plants, are you really going to believe that it was the result of a mutation? Here's something striking, mutations have never been observed to introduce new information in the genome. Mutations can only scramble or duplicate existing information.

Check this page out.
I made no attempt to engage Nye or answer his emails. After he emailed me the first time, I responded and told him I wasn't interested in corresponding with him. I asked him to not write me again, but, in classic Evangelical fashion, he ignored my request and emailed me several more times. This kind of behavior is quite common among Evangelical zealots who feel duty-bound to share what "God" has laid upon their hearts. They have no respect for atheists, and seem only concerned with hearing themselves talk.
I suppose I should feel sorry for this young man. His head has been filled with foolishness that he thinks is "God." He's a youngster who pridefully and arrogantly thinks he knows the Bible and the mind of God so well that he can, with great certainty, pass judgment on my spiritual condition. Never mind that I have likely forgotten more Bible knowledge than Nye will ever know. All that matters to Nye is putting in a good word for Jesus. He's told Bruce, the atheist the truth, and now that he has done his duty, he's free to move on to other atheists who desperately need to hear that they are sexual deviants.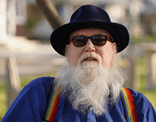 Bruce Gerencser, 64, lives in rural Northwest Ohio with his wife of 43 years. He and his wife have six grown children and thirteen grandchildren. Bruce pastored Evangelical churches for twenty-five years in Ohio, Texas, and Michigan. Bruce left the ministry in 2005, and in 2008 he left Christianity. Bruce is now a humanist and an atheist.
You can contact Bruce via email, Facebook, Twitter, or YouTube.
Your comments are welcome and appreciated. All first-time comments are moderated. Please read the commenting rules before commenting.