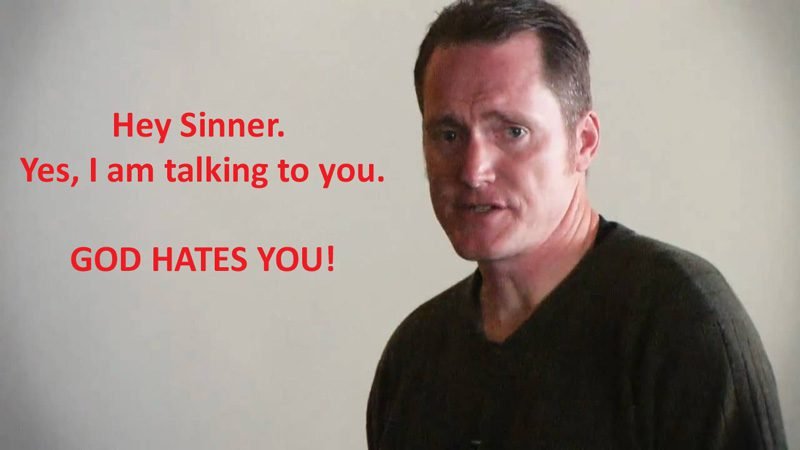 Does God hate people? Liberal and progressive Christians say, ABSOLUTELY NOT! GOD LOVES EVERYONE! Much like their Evangelical brethren, they appeal to the Bible (and personal feelings) to prove their beliefs. In their minds, the essence of God is his love for his creation. Personally, I like this flavor of Christianity. Loving self and others is a good thing. The problem with it and all other peculiar interpretations of the Bible that it is come to by ignoring what other verses say. The Bible is a hopelessly contradictory book, and it can be used to prove almost anything. Take Tim Conway, pastor of Grace Community Church in San Antonio, Texas. I was Tim's pastor for a time in the 1990s. He is a diehard, fire-breathing Fundamentalist Calvinist. Tim reads the same the Bible as liberals and progressives do and concludes that God not only hates sin, he hates those who do it. I will let Tim share with you his view on the matter. The video is short, so I hope you will take the time to watch it.
If you read the comments on this video, you will see that Christians are quite divided over Tim's hate message. And that is the point of this post. The Bible is inexhaustible to the degree that it can be used as proof for countless competing beliefs. This alone is proof enough for the bankruptcy of Christianity. If Christians can't even agree on the basics: salvation, baptism, communion, and can't agree on whether God hates or loves sinners, why should unbelievers bother to give Christianity a moment's notice? The Bible says that there is ONE Lord, ONE Faith, and ONE Baptism, yet thousands of Christian sects, each differing with the other, suggest otherwise.
About Bruce Gerencser
Bruce Gerencser, 61, lives in rural Northwest Ohio with his wife of 40 years. He and his wife have six grown children and twelve grandchildren. Bruce pastored Evangelical churches for twenty-five years in Ohio, Texas, and Michigan. Bruce left the ministry in 2005, and in 2008 he left Christianity. Bruce is now a humanist and an atheist. For more information about Bruce, please read the About page.
Bruce is a local photography business owner, operating Defiance County Photo out of his home. If you live in Northwest Ohio and would like to hire Bruce, please email him.
Thank you for reading this post. Please share your thoughts in the comment section. If you are a first-time commenter, please read the commenting policy before wowing readers with your words. All first-time comments are moderated. If you would like to contact Bruce directly, please use the contact form to do so.
Donations are always appreciated. Donations on a monthly basis can be made through Patreon. One-time donations can be made through PayPal.