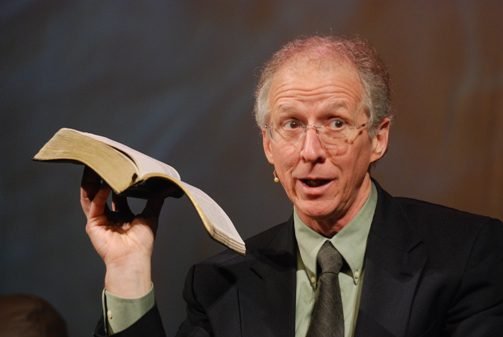 What follows is a reminder of the lengths Evangelicals go to justify or condemn certain behaviors using the inspired, inerrant, infallible Protestant Bible.
I would say that the prohibitions of sexual relations during menstruation (Leviticus 18:19; 20:18; Ezekiel 18:6; 22:10) are not demanded of us as Christians. I think that's the implication of Romans 7:4–6, which I quoted a minute ago. [Oh, how convenient, but what God says about homosexuality in the same Old Testament is still valid and in force. Hypocrites!]
So, the question becomes: If we don't have an absolute prohibition, what should guide us in this matter? I'll suggest two considerations for a husband and a wife to think and pray about. One is the roots of the prohibition in the Old Testament, and the other is the path of love between a husband and wife.
Now, think with me about the roots of this Old Testament prohibition of sex during menstruation. Here are two verses.
You shall not approach a woman to uncover her nakedness while she is in her menstrual uncleanness. (Leviticus 18:19)

If a man lies with a woman during her menstrual period and uncovers her nakedness, he has made naked her fountain, and she has uncovered the fountain of her blood. (Leviticus 20:18)
Two issues, it seems, then, lie behind the prohibition: (1) uncleanness and (2) the exposure of the fountain of blood — whatever that means.
Ritual Uncleanness
Now, the term uncleanness, very importantly, does not refer to sinful impurity. We know this because no sacrifice was required in Leviticus because of this, but only washing with water (Leviticus 15:19–24). In other words, there's no sin involved in her menstrual flow. That's not what the uncleanness refers to. It's not sexual or sinful impurity.
The issue was ritual purity rooted in real cleanliness. Before the more modern ways of dealing with the menstrual flow, for countless generations, menstrual bleeding was a perennial problem for women (indeed, for men too) of cleanliness. Menstrual rags were metaphorical in the Bible for filthiness. This was the word used in Isaiah 64:6: "All our righteous deeds are like [filthy menstrual rags]." It was a tremendous burden for women to have to deal with. And very likely, the issue of sexual relations was simply considered extremely unsanitary and made the whole challenge of a woman's cleanliness even more difficult if there were sexual intercourse involved.
So, that's my reckoning with that first word unclean and its roots. It's the roots of the simple burden of, How do we maintain appropriate cleanliness in the community?
Fountain of Life
Here's the second one: uncovering her fountain. This is something different than the problem of cleanliness. This is probably a reference to something sacred and profound.
The woman's monthly cycle is a constant testimony of a woman's glory of bearing and nurturing life in her womb. She has that potential. It shows up and manifests itself every month. Every month, she is reminded that she has the incredible potential. The welcome of life is signified every month by the building up of blood. And life is in the blood (Leviticus 17:11). Life is in the blood. It is a life-giving spring or fountain. And during the menstrual flow of blood, there is the reminder that a life did not happen this month, though it might have. That's how much potential resides in that fountain.
And my guess is that this entire process, with all of its profound potential as the fountain of life, was simply not to be casually observed. It was not to be intruded upon. It was to be concealed. It was an indictment, when Leviticus 20:18 says, "He has made naked her fountain." This is not a matter of cleanliness. This is a matter of sacrilege in the Old Testament. The fountain in its sacred flow is to be protected.
This is where the principle of love that I mentioned a moment ago is going to work its miracle. Here's the guideline from 1 Corinthians 7:4: "The wife does not have authority over her own body, but the husband does. Likewise the husband does not have authority over his own body, but the wife does."
Which means that he has authority to have sexual intercourse with his wife during menstruation. And she has authority not to have sexual intercourse with her husband during menstruation. Which means this issue is not going to be resolved by authority [In other words, ignore the Bible.]; it's a draw. It's going to be resolved by love. And love will discern the deep things of the heart and the body. And if she finds sexual relations during menstruation offensive (or he does), his inclination will be to exercise self-control and love for her sacrificially, like Christ — for her sake, and really, thus, for his. And if she finds his desire for her to be very strong, she may give him that gift, or she may surprise him with some other pleasure. [of the language Evangelicals use for hand jobs and blow jobs.]
But I would say, especially to husbands: as the leader, you should take the lead in exercising self-control, which is a "fruit of the Spirit" (Galatians 5:22–23), and so bless her and win her affections, which I don't doubt will pay dividends in the rest of the month.
— John Piper Desiring God, Is Sex During Menstruation Sinful?, August 6, 2021
Bruce Gerencser, 66, lives in rural Northwest Ohio with his wife of 45 years. He and his wife have six grown children and thirteen grandchildren. Bruce pastored Evangelical churches for twenty-five years in Ohio, Texas, and Michigan. Bruce left the ministry in 2005, and in 2008 he left Christianity. Bruce is now a humanist and an atheist.
Connect with me on social media:
Your comments are welcome and appreciated. All first-time comments are moderated. Please read the commenting rules before commenting.
You can email Bruce via the Contact Form.