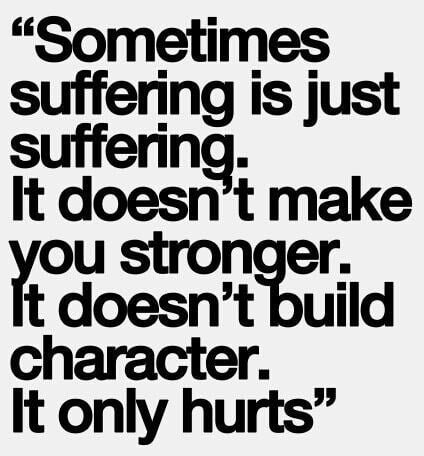 Evangelicals often say that suffering makes us stronger. According to them, their God uses suffering to test, try, chastise, and even "save" people. (What a perverse God this deity is.) The goal of suffering, then, is to bring people into submission to God's purpose and plan; to humble them before God; to make them stronger. Theology aside, does suffering really make us stronger?
I have an intimate relationship with suffering (an abusive spouse if there ever was one). There's not a moment or day in my life that I don't suffer from unrelenting pain, fatigue, muscle spasms, and, since my diagnosis with gastroparesis in 2020, nausea, lack of appetite, and vomiting. My body hurts from the top of my head to the bottom of my feet — literally. Yes, I take narcotic pain medications and powerful muscle relaxers, along with a drug for sleep. They "help," but they don't make the pain magically disappear. The best these drugs do is improve my quality of life. And some days, they don't even do that. Some days demand I put a stick in my mouth, bite down, and hope, plead, and "pray" that the pain will recede.
Nights are the worst. It takes from 3-5 hours for me to fall asleep once I lie down. I read, watch TV on my iPad Pro, or get up and walk the well-worn path in the carpet of our home, begging and pleading for the pain to go away. On occasion, I will take a hot bath — and "hot" for me is straight hot water. During the night hours, my body pisses off the fluid that has collected in my legs during the day, requiring numerous trips to the bathroom or the use of a portable urinal. Eventually, I will fall asleep (though I typically sleep 2-3 hours at a time), only to wake up the next day and start the process all over again.
Now to the question: does suffering makes us stronger? For me, no. There's nothing in my experiences with suffering that have made me "stronger." I am a weak, frail man, prone to thoughts of suicide, knowing that the medical means to my end are but two or three pill bottles away. I hang on for my beautiful wife of forty-three years, my six wonderful children, and thirteen supercalifragilisticexpialidocious grandchildren. I hang on because I still feel I have important work to do through this blog. I hang on because there are still things I want to see and places I want to go. So . . . I endure. Has my suffering made me stronger? Absolutely not. I endure out of a raw, naked desire to live, to see my grandchildren go to college, graduate, and do great things in the world. I want to hold in my arms my first great-grandchild. And I want to see the Bengals win a Super Bowl, the Reds win another World Series, my book published (no I haven't given up — yet), and Bethany marry Rascal Flatts. 🙂 I still have reasons to get up in the morning. And the day I don't?
Early in the morning hours, in a weeping moment of despair, I texted Polly:
I'm sorry. I didn't mean to upset you or worry you. I love you with all my heart. But, I'm tired. I'm in so much pain — head to toe. Mentally, I'm in Pilgrim's slough of despondency with, seemingly, no way out. I feel very alone. I know you are right here, yet everyone seems so distant. I feel like I'm being sucked under by quicksand while those who love me stand by and say, "Dad/Bruce/Butch [my nickname, only used by my siblings, aunts and uncles] will figure a way out." And when I don't or can't?
Unrelenting chronic pain and suffering bring depression and despair. How could it be otherwise? That's why I have been seeing counselors for the past ten years. (I recently changed therapists. I am seeing a woman this time.) These counselors have literally saved my life. I wish things were different for me, but "wishing" changes nothing. I am a realist, a pragmatist. Life is what it is. All I know to do is to endure. The Bible says, "he that's endureth to the end shall be saved." And what "saves" us, in the end, is death, not Jesus. As a chronic pain sufferer, death is my savior. Until then, I hang on until my savior appears in the sky.
This post is not a cry for help, nor is it a request for unsolicited medical advice. This is just me talking out loud and being real with the readers of this blog. I am sure some of my Evangelical critics will seize on this post as an example of the hopelessness of atheism or some sort of character flaw in my life. All I can say to them is this: fuck off.
Other Posts on Suffering
Bruce, Your "Suffering" is Nothing Compared to Job's
Quote of the Day: Theological Beliefs Force People to Endure Needless Suffering
Do Evangelical Beliefs Cause Suffering?
An Argument Against the Existence of God: The Suffering of Animals
Quote of the Day: The Kind of Suffering That is a Problem by Bart Ehrman
Quit Complaining, Your Suffering is Nothing Compared to What Jesus Faced
Bart Ehrman on God, the Bible, and the Problem of Suffering
How Fundamentalist Prohibitions Cause Needless Suffering and Pain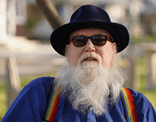 Bruce Gerencser, 65, lives in rural Northwest Ohio with his wife of 44 years. He and his wife have six grown children and thirteen grandchildren. Bruce pastored Evangelical churches for twenty-five years in Ohio, Texas, and Michigan. Bruce left the ministry in 2005, and in 2008 he left Christianity. Bruce is now a humanist and an atheist.
Connect with me on social media:
You can email Bruce via the Contact Form.
Your comments are welcome and appreciated. All first-time comments are moderated. Please read the commenting rules before commenting.