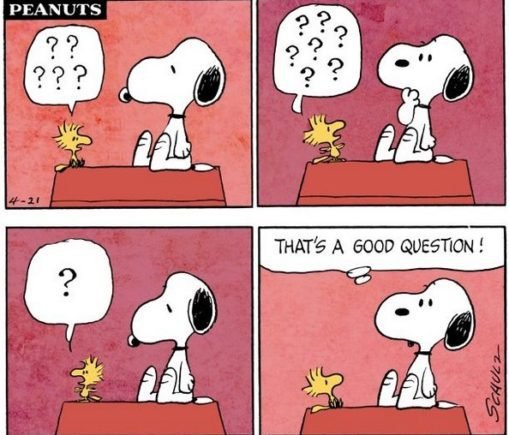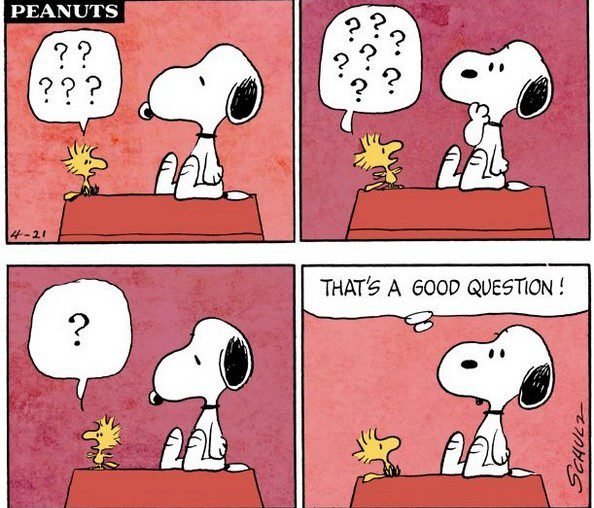 Twenty-Six Questions From the Search Logs
What follows is a list questions from the search logs. These questions are a handful of the thousands of Google search queries people use to get to this site. In this post, I plan to "answer" these "important" questions. Let these search questions remind you of how Evangelical beliefs can and do psychologically harm people. If this is not the case, then why-oh-why would a rational person ask such questions? No, my friend, Evangelical beliefs hinder critical thinking. How could they not? When a Bronze Age religious text is your go-to book, is it any surprise people end up fretting over the things mentioned in these questions?
Snarkiness and cussing ahead! You have been warned. Now, go and sin!
Is Bethel Church in Redding, California a cult?
Yes, Bethel Church in Redding is a cult. Every crazy, irrational Evangelical/Charismatic belief and practice can be found at Bethel. Bethelmania has spread far and wide, it seems. A nearby church pastored by Tim and Lisa Hacker has changed its name to Bethel. The Hackers, members of the Bethel Leaders Network, believe God wants them to "make things on Earth as it is in Heaven."
My advice to people wanting to hook up with the nutters at Bethel Church in Redding is simple: RUN!
Please read Bethel Redding: A Dangerous Evangelical Cult.
Why are Evangelicals so mean?
Evangelicals are mean because their God is mean. All one needs to do is read the Bible to find the 'Mean God." This God is the meanest son-of-a-bitch in the universe; meaner than Satan himself. Not that God or Satan exists, but if they did . . .
Evangelicals preach up love, joy, peace, and tithing, but their behavior suggests that they don't practice what they preach.
Why are Evangelicals so hateful?
Evangelicals are hateful because their God is hateful. All one needs to do is read the Bible to find the 'Hateful God." This God is the most hateful asshole in the universe; more hateful than Satan himself. Not that God or Satan exists, but if they did . . .
Evangelicals preach up love, joy, peace, and tithing, but their behavior suggests that they don't practice what they preach.
Where is David Hyles today?
Hopefully, David Hyles is under a rock somewhere, fearing further exposure of his vile and criminal behavior. Why would anyone want to know where Hyles' is today? Passionately unrepentant, Hyles is attempting a comeback of sorts. My goal in life is whack him on the head every time he pops his head up from the rock he is currently hiding under.
Please read UPDATED: Serial Adulterer David Hyles Has Been Restored, David Hyles Says My Bad, Jesus, Is All Forgiven for David Hyles?, Serial Adulterer David Hyles Receives a Warm Longview Baptist Temple Welcome, and Disgraced IFB Preacher David Hyles Helping Fallen Pastors Get Back on Their Horses
Is kissing your boyfriend a sin?
Think about this question for a moment. Humans are naturally sexual beings. It is very human to desire to kiss someone you are attracted to. If God is your creator, why did he give you sexual desire and then expect you not to act on it? Silly, right? Any church/sect that demands you refrain from kissing before marriage is a cult. My advice? RUN!
Please read Is it a Sin to Kiss Your Boyfriend? and Hey Girlfriend: Is it a Sin to Kiss Your Boyfriend?
What is the name of the Ohio preacher who became an atheist?
Bruce Gerencser. You can find everything you would ever want to know about him here. Beware! Independent Fundamentalist Baptist (IFB) preachers believe Gerencser is a tool of Satan, a destroyer of the faith once delivered to the saints. His writing has been known to cause fear, doubt, gas, and loss of faith.
How do atheists handle death?
Every atheist is different, so I can't speak for all atheists. That said, death is inevitable. It stalks all of us, and will one day — all too soon — catch us. Worrying about death is a waste of time. Here's the advice I give to people to ask such questions:
You have one life. There is no heaven or hell. There is no afterlife. You have one life, it's yours, and what you do with it is what matters most. Love and forgive those who matter to you and ignore those who add nothing to your life. Life is too short to spend time trying to make nice with those who will never make nice with you. Determine who are the people in your life that matter and give your time and devotion to them. Live each and every day to its fullest. You never know when death might come calling. Don't waste time trying to be a jack of all trades, master of none. Find one or two things you like to do and do them well. Too many people spend way too much time doing things they will never be good at.

Here's the conclusion of the matter. It's your life and you best get to living it. Some day, sooner than you think, it will be over. Don't let your dying days be ones of regret over what might have been.
Please read How Does an Atheist Handle the Death of a Loved One?
Who won't make it to Heaven?
No one will make it to Heaven. Heaven (and Hell) are fictional places used by clerics to ensure congregants remain faithful. They use a carrot-stick approach. Heaven is the carrot, and Hell is the stick. Without the promise of eternal life in Heaven (or the threat of Hell) after death, most churches would close. Why bother with getting up on Sundays, giving ten percent of your income to the church, and listening to boring sermons if there's no life after death?
Why are black women more loyal to their pastors than their husbands?
I don't know if this is true, but I do know that black female Evangelicals are quite devoted to their pastors and churches. Pastors can commit all sorts of crimes, yet there is Sister Bertha and the Missionary Union standing behind them, faithful unto the end. I suspect this has to do with being taught to submit to male religious authorities.
Perhaps someone who spent years in a black church can better answer this question.
Why do some pastors stop believing in God?
Where oh where to I begin? Please read the posts on the WHY page for more information on why I divorced Jesus in 2008.
Is Christopher Hitchens in Hell?
Of course not. There is no such thing as Hell, silly boy. Please read Christopher Hitchens is in Hell
Is it a sin for a man to have long hair?
I see IFB preachers are still preaching against long hair on men. Any man focused on your physical appearance is a cultist (and a creep). His goal is to control you though demanding you look and dress a certain way. Please read Is it a Sin for a Man to Have Long Hair?
Was Jack Hyles a false prophet?
The short answer is yes. Please read The Legacy of Jack Hyles, The Scandalous Life of Jack Hyles and Why it Still Matters, The Mesmerizing Appeal of Jack Hyles, and Sexual Abuse and the Jack Hyles Rule: If You Didn't See It, It Didn't Happen
Is the IFB a cult?
Yes. All churches and sects, by definition, are cults. That said, IFB churches and pastors often use psychological manipulation and religious indoctrination to control congregants. My advice is simple: RUN! There are plenty of kinder, gentler, human-affirming flavors of Christianity. Check them out. You need not stay in the IFB cult.
Here's the dictionary definition of the word cult:
An interest followed with exaggerated zeal.
A system of religious beliefs and rituals.
A religion or sect that is generally considered to be unorthodox, extremist, or false.
Followers of an unorthodox, extremist, or false religion or sect who often live outside of conventional society under the direction of a charismatic leader.
Followers of an exclusive system of religious beliefs and practices.
Need I say more?
Should IFB wives obey their husbands without question?
Back in my IFB days, I would have said yes, with one qualification: wives do not have to obey commands that are contrary to the Bible. That said, men are far smarter than women, stronger too. I read that in the Bible, so it must be true, right? (That's sarcasm, by the way.)
Should churches get rid of their youth programs?
Yes, immediately. Don't pass GO, don't collect $200. Please read Dear Evangelical Church Leaders: It's Time to Get Rid of Your Youth Pastors and Youth Departments
Why are Baptists not allowed to play cards?
Many Baptists think playing cards of any kind is a sin. The first church I worked in almost had a split over card playing. Here's how one Fundamentalist site explains why card playing is sinful:
Playing cards, like reading your horoscope, has become a joke or just a game. However, the Lord does not look at it as a joke or game. There are serious consequences for reading your horoscope as well as using cards or just having them in your home. It has been said that nicknames for a deck of cards is "The Devil's Bible" and "The Devil's Picture Book". At one time the church took a strong stand against the card game. Until recently preachers and churches warned about the dangers of cards.

Some of the most common places you will find a deck of cards (besides our homes) will be with prostitutes, gamblers, thieves, murderers, in taverns, brothels, prisons, insane asylums, gambling dens, etc., but never at a prayer meeting.

The king represents Satan, Prince of Darkness, usurper and foe of our Lord Jesus Christ. The ten card is for the Spirit of lawlessness, in opposition to the moral law in the Word of God. In 1300, clubs were the chief weapons used by murderers, therefore this suit represents the Spirit of Murder and death by violence. The jack represents the lustful libertine, from pimp to adulterer and whoremonger, a moral leper whose chief ambition is to gratify sensual fleshly lusts. The queen represents Mary, Mother of Jesus, but in the card language she is called Mother of Harlots. The joker represents Jesus Christ, the Son of God. Joker means fool and therefore Jesus is held up to ridicule. The joker is said to be the offspring of licentious jack and the queen, Mother of Harlots.

All other cards also have hidden obscene and blasphemous meanings. Nine-tenths of all gambling today is done with these cards. Witches, psychics, and satan-worshipers use playing cards for divination and to cast spells and curses. Born-again believers should not want to be in contact with such a tool of Satan. In Deuteronomy 7:26 we are told not to have abominable things in our homes. It will bring a curse on you and your household. It is time that Christians clean house and destroy the hidden works of darkness.
Is it ever okay to lie?
Yes. Please read Is it Ever Okay to Lie?
Is masturbation a sin?
Many Evangelicals believe masturbating is sinful. In their "clean" minds, since masturbation requires "lust" for matters to rise to the occasion, it is a sexual sin rooted in pride. Not pride over penis size. Everyone knows Evangelical men have small dicks (and Evangelical women never, ever ring the Devil's doorbell). Since masturbation is generally a solo act, it is wrongly focused on prideful self-gratification. Besides, masturbation will make you blind.
Again, such beliefs are all about control. Evangelicals hold to Puritanical beliefs on sex. No sex before marriage, and that includes masturbation. Silly, I know, but many people believe masturbation to be every bit as sinful as fornication. If this is so, skip spanking the meat and go straight to intercourse. Trust me, it's a lot more fun!
Please read Good Baptist Boys Don't Masturbate, Oh Yes, They Do!
Is Game of Thrones pornographic?
No, and only people who have never seen porn think it is. Yes, GOT has a good bit of nudity (and dragons). But, pornographic? Nope. Want to see REAL porn? Ask your pastor for a list of his favorite porn websites. Maybe, the both of you can check them out together. Nothing better for the soul than searching YouPorn with your preacher.
What religion approves of incest?
Christianity. It is, after all, in the Bible.
How do you witness to an atheist?
You don't. True-blue atheists are NOT good evangelistic targets, especially if they were previously Christian. There are so many souls in need of saving. Why not go after the low-hanging fruit instead of wasting your time with people who know the score and have zero interest in your Gods?
Please read How to Witness to an Atheist
Is wearing leggings a sin?
No. Now, it may not be becoming for you to wear them. Spend an evening at the local Walmart and you see women who should never, ever attempt to put their size 22 ass in a size 12 pair of leggings. That's just my personal opinion, so if you want to wear leggings, go for it. Don't let ANYONE tell you how to dress, especially religious authority figures. Remember, their goal is not social propriety, it's control.
Please read Christians Say the Darnedest Things: Wearing Leggings is a Sin
Why do liberals hate Evangelicals?
I am a liberal and I don't hate Evangelicals. I do, however, hate Evangelical beliefs. I know a lot of nice, kind, thoughtful Evangelicals who have horrible, anti-human, anti-progress, anti-science beliefs. Such beliefs deserve a swift death, and I plan to do my part in smothering the life out of them. To use a common Evangelical cliché: I love the Evangelical, but hate the beliefs.
Why doesn't God stop abortion?
Good question, why doesn't he? Keep asking yourself that question until you exit the church doors into the fresh air of reason and freedom. God doesn't stop abortion because he can't. God doesn't exist, so how can he stop anything? That why there is war, starvation, sexual violence and other calamities. It's up to us to fix these problems, not God.
Where is Bruce Gerencser?
Right here. Not dead. Not in Hell. Seek and ye shall find. And please, God dammit, spell my last name correctly when you are using a search engine to locate me. Gerencser, how hard can it be? It's Hungarian by the way, not that I am, in any way, Hungarian. I am the milk man's son.
About Bruce Gerencser
Bruce Gerencser, 61, lives in rural Northwest Ohio with his wife of 40 years. He and his wife have six grown children and twelve grandchildren. Bruce pastored Evangelical churches for twenty-five years in Ohio, Texas, and Michigan. Bruce left the ministry in 2005, and in 2008 he left Christianity. Bruce is now a humanist and an atheist. For more information about Bruce, please read the About page.
Bruce is a local photography business owner, operating Defiance County Photo out of his home. If you live in Northwest Ohio and would like to hire Bruce, please email him.
Thank you for reading this post. Please share your thoughts in the comment section. If you are a first-time commenter, please read the commenting policy before wowing readers with your words. All first-time comments are moderated. If you would like to contact Bruce directly, please use the contact form to do so.
Donations are always appreciated. Donations on a monthly basis can be made through Patreon. One-time donations can be made through PayPal.