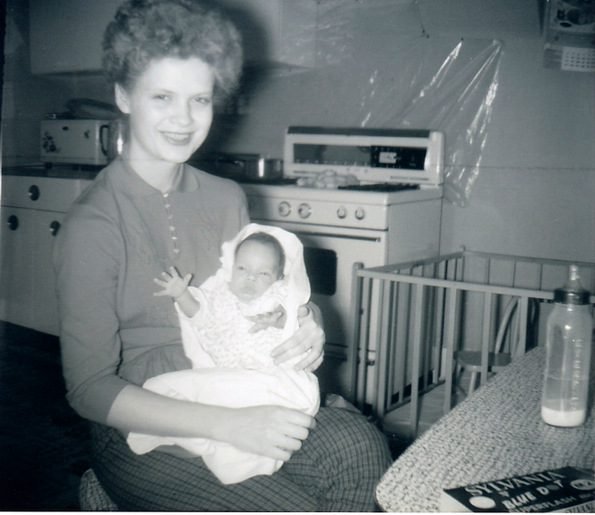 Originally written 2011, edited, corrected.
At the age of fifty-four, my mother turned a .357 magnum Ruger revolver toward her chest and pulled the trigger. The bullet tore a hole in her heart and in a few moments she was dead. Mom had tried to kill herself many times before. This time she succeeded (please see the post Barbara).
When I was eleven, Dad had to call for an emergency squad because Mom had taken several bottles of prescription drugs. They rushed her to the hospital and pumped her stomach, and she survived to die another day. Later in the year, Mom and the neighbor lady were in a serious automobile accident in Lima. I say accident because it is possible that Mom pulled into the other lane of traffic, allowing the truck to hit them.
Mom made a third attempt on her life that same year. I came home from school and found Mom lying unconscious on the floor with blood pooling around her body. She had slit her wrists. Yet again, the emergency squad came, and her life was saved.
As best I can tell, Mom had mental problems her entire life. She was bright, witty, and well-read, but Mom could, in a split second, lapse into angry, incoherent tirades. Twice she was involuntarily committed to the Toledo State Mental Hospital, undergoing shock therapy numerous times. None of the treatments or drugs worked.
In the early 1960s, my parents found Jesus. Jesus, according to the Bible, healed the mentally ill, but, for whatever reason, he didn't heal Mom. The mental health crises I have shared in this post, and others that I haven't shared, all occurred after Mom put her faith and trust in the loving Jesus who supposedly had a wonderful plan for her life. Mom died believing Jesus was her Savior. To this day, I lament the fact that I didn't do more to help her. Sadly, I saw her mental illness as an inconvenience and an embarrassment. If she just got right with God, I thought at the time, all would be well. If she would just kick her drug habit, I told her, God would be there to help her. What she really needed was for her eldest son to pick her up, hold her close, and love her. I will go to my grave wishing I had been a better son, that I had loved Mom and my family more than I loved Jesus and the church.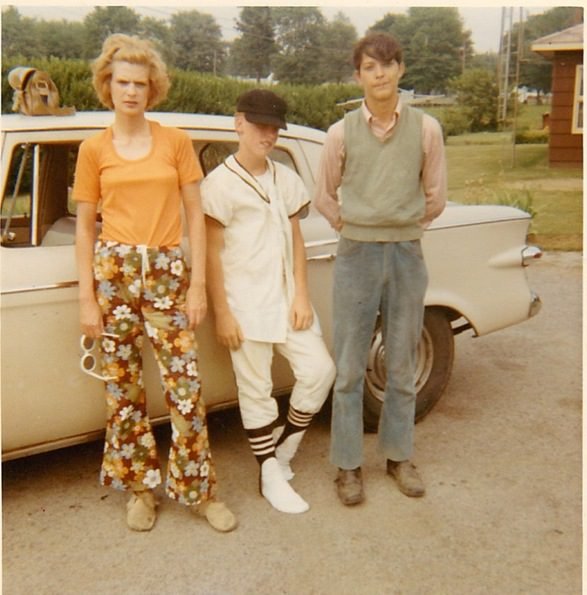 Mom was quite talented. She played the piano and loved to do ceramics. Her real passion was reading, a habit she happily passed on to me. (Mom taught me to read.) She was active in politics. Mom was a member of the John Birch Society, and actively campaigned, first for Barry Goldwater, and later for George Wallace.
My parents divorced when I was fourteen. Not long after the divorce, Mom married her first cousin, a recent parolee from a Texas prison (he was serving time for armed robbery). He later died of a drug overdose. Mom would marry two more times before she died. She was quite passionate about anything she fixed her mind upon, a trait that I, for good or ill, share with her. In the early 1970s, Mom was an aide at Winebrenner Nursing Home in Findlay, Ohio. Winebrenner paid men more than they paid women for the same work. Mom, ever the crusader, sued Winebrenner under the Equal Pay Act and the Civil Rights Act. The Federal Court decided in her favor.
We moved quite often, and I have no doubt this contributed greatly to Mom's mental illness. She never knew what it was to have a place to call home. Our family lived in one rental after another, never stopping long enough to buy a home. I lived in sixteen different houses by the time I left for college at the age of nineteen.
I have always wondered if my parents were ever happily married. Mom and Dad were married by an Indiana Justice of the Peace in November 1956. At the time of their marriage, Mom was eighteen and pregnant. I learned a year ago that Dad was not actually my biological father. Dad meant well, but the instability of their marriage, coupled with us moving all the time, caused my siblings and me great harm. Dad thought moving was a great experience. Little did he know that I hated him for moving us around. New schools (seven different school districts). New friends. Never having a place to call home. No child should have to live this way.
From the time I was five until I was fourteen, my parents were faithful members of a Baptist church in whatever community we lived in. The Gerencser family attended church every time the doors were open (I have attended over 8,000 church services in my lifetime). Mom would play the piano from time to time, though she found it quite stressful to do so. One time, much to my embarrassment, she had a mental meltdown in front of the whole church. She never played again. For a time, Dad was a deacon, but he stopped being one because he couldn't kick his smoking habit. I suspect the real reason was that he was having an affair.
No matter where we lived or what church we went to, one thing was certain: Mom was mentally ill and everyone pretended her illness didn't exist. Evangelical churches such as the ones we attended had plenty of members who suffered from various mental maladies. For the most part, those who were sick in the head were ignored, marginalized, or told to repent.
In 1994, I co-pastored a Sovereign Grace Baptist church in San Antonio, Texas. (See the I am a Publican and a Heathen series.) One day we were at a church fellowship and my wife came around the corner just in time to hear one of the esteemed ladies of the church say to her daughter, you stay away from that girl, she is mentally retarded. "That girl" was our then five-year-old daughter with Down syndrome. This outstanding church member's words pretty well sum up how many churches treat those with mental handicaps or illness. STAY AWAY from them!
Many Christians think mental illness is a sign of demonic oppression or possession. No need for doctors, drugs, or hospitals. Just come to Jesus, the great physician, and he will heal you. After all, the Bible does say in 2 Timothy 1:7: For God hath not given us the spirit of fear; but of power, and of love, and of a sound mind. If someone is mentally unsound, it's the person's fault, not God's. Get right with God and all will be well.
I have suffered with depression for most of my adult life. I am on the mountaintop one moment and in the valley the next. Plagued with a Type A personality, and being a consummate workaholic, I am often driven to despair. Work, Work, Work. Go, Go, Go. Do, Do, Do. I have no doubt that the way I lived my life as a Christian contributed to the health problems that now plague me. While I was busy burning the candle at both ends for Jesus, my body was screaming STOP! But I didn't listen. I had no time for family, rest, or pleasure. Work for the night is coming, the Bible says. Better to burn out for Jesus than rust out, I told myself. And now, thanks to living this way for much of my adult life, I am a rusting 1957 Chevrolet, sitting on blocks, awaiting the day when the junkyard comes to tow me away.
For many years, I hid my depression from the outside world. While Polly and my children witnessed depression's effect on their husband and father, church members never had a clue. I have often wondered how parishioners might have responded had I told them the truth. I suspect some church members would have seen me as a fellow depressive, but others would likely have questioned whether I was "fit" to be a pastor.
In 2008, a few months before I deconverted, I told a pastor friend that I was really depressed. Instead of lending me a helping hand or encouraging me, he rebuked me for giving in to the attack of Satan. He told me I needed to confess my sin and get victory over it immediately. A lot of Christians think just like this (former) pastor friend of mine. (Please see Dear Friend.)  Depression is a sign of weakness, and God only wants warriors and winners.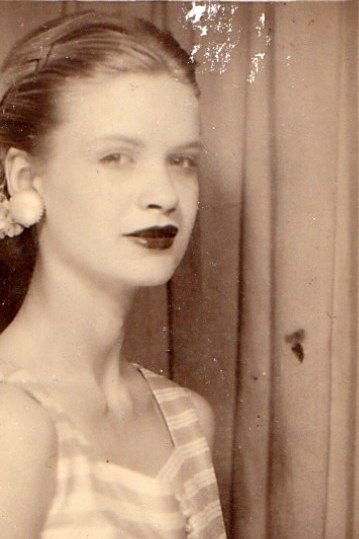 Going to see a counselor was the single most important thing I have done in the last ten years. It took me leaving the ministry and departing from Christianity before I was willing to find someone to talk to. Several times, while I was still a Christian, I made appointments with counselors only to cancel them at the last minute. I feared that someone would see me going into the counselor's office or they would drive by and see my car in the parking lot. I thought, My God, I am a pastor. I am supposed to have my life together.
Indeed, it took me leaving the church, the pastorate, and God to find any semblance of mental peace. I have no doubt some readers will object to the connection I make between religion and mental wellness, but for me, there was indeed a direct correlation between the two.
I still battle with depression, but with regular counseling and a (forced) slower pace of life, I am confident that I can live a meaningful, somewhat peaceful life. As many of you know, I have chronic, unrelenting pain. I have not had a pain-free day in over twenty years (my days are counted as less pain, normal pain, more pain, and off the fucking charts pain). The constant pain and debility (I was diagnosed with gastroparesis, an incurable stomach disease, last year) certainly fuel my depression. My counselor says she would be surprised if I wasn't depressed from time to time.  Embracing my depression and coming to grips with the pain and debility is absolutely essential to my mental well-being. This is my life. I am who I am. I accept this, and I do what I can to be a loving, kind, and productive human being.
To my Christian readers I say this: sitting near you in church this coming Sunday will be people who are suffering with mental illness. Maybe they are depressed. They hide it because they think they have to. Jesus only wants winners, remember? Pay attention to other people. The signs are there. Listen to those who you claim are your brothers and sisters in the Lord. Embrace them in the midst of their weakness and psychosis. While I don't think a mythical God is going to heal them, I do think that loving, understanding friends can be just the salvation the mentally ill need.
It is not easy being around those who are mentally ill. Let's face it, depressed people are not fun to be with. We are not the life of the party. When I am in the midst of mental and emotional darkness, I am not the kind of person most people want to be around. I become withdrawn, cynical, and dark. These attributes, coupled with the physical pain I endure, can, at times, make me unbearable to be around. It is at these moments when I need the help of others. Sadly, most people, including my family and friends, tend to pull away from me when I need them the most. I understand why they do so, but the loneliest place on earth is sitting alone in the darkness of night wishing you were dead.
How do you respond to people who are mentally ill? How do you respond to those who are depressed?  Perhaps you suffer from mental illness or depression. Do you hide it? How are you treated by others? If you are a Christian, how are you treated by your church and pastor? Please share your thoughts in the comment section.
Bruce Gerencser, 66, lives in rural Northwest Ohio with his wife of 45 years. He and his wife have six grown children and thirteen grandchildren. Bruce pastored Evangelical churches for twenty-five years in Ohio, Texas, and Michigan. Bruce left the ministry in 2005, and in 2008 he left Christianity. Bruce is now a humanist and an atheist.
Connect with me on social media:
Your comments are welcome and appreciated. All first-time comments are moderated. Please read the commenting rules before commenting.
You can email Bruce via the Contact Form.