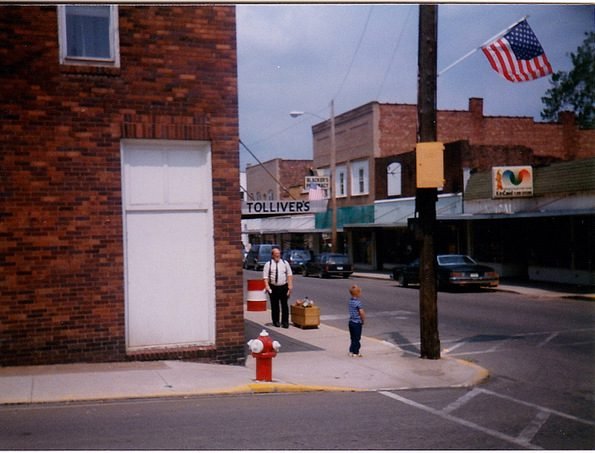 The First Amendment grants U.S. citizens and non-citizens alike freedom of speech and freedom of religion. These two freedoms are very close to the heart of men who preach on the streets. There is no freer piece of property than a public sidewalk. As long as a street preacher isn't hindering people walking on the sidewalk or crossing the street, he is free to say pretty much anything to people passing by. Unfortunately, many local business owners and police officers are not well versed in what the law does and does not permit when it comes to street preaching. Many business owners wrongly think that if an obnoxious street preacher – an excessive redundancy if there ever was one — is standing in front of their store preaching or handing out tracts, a quick call to the police will remove the annoyance. However, the street preacher is exercising his First Amendment rights on a public sidewalk, and this means his actions are protected by law.
Sometimes, street preachers get in trouble with the law over evangelizing on private property, or preaching in public places that don't allow preaching or politicking. For example, street preaching is banned near monuments such as the Lincoln and Washington Memorials. Another forbidden venue is Ohio county fairs. Fairs? Aren't they public events? No. The various county governments rent/lease the fairgrounds to county agricultural boards. This means, technically, that the fairgrounds become private property for the duration of the fair. The same can be said for many street fairs. Years ago, I entered the Perry County Fairgrounds to preach and hand out tracts to fair-goers. I wasn't there ten minutes before a fair official and two sheriff deputies told me I had to leave. I told them I wouldn't be leaving. The fairground is public property, I said. Not wanting to make a scene and arrest me, the officers left me alone. I did what Jesus had "called" me to do and then headed home. Several months later, I received a personal letter from the Ohio Attorney General informing me that the fairgrounds were private, not public property, and that any further preaching or handing out of literature on my part would result in my arrest. The next year, I stood outside the fairground entrance and, with Bible held high, preached the gospel. I was watched closely by fair officials and law enforcement, but we had no further conflict.
In the late 1980s, I would take a group of men from the church to help me evangelize at the Holy Trinity Catholic Church Garden Party in Somerset, Ohio. The Garden Party was an annual fundraiser for Holy Trinity featuring food, beer, and gambling. The beer and gambling, according to the IFB preacher Bruce Gerencser, were sins against God, so what better way to let those hell-bound Catholics know the truth than by loudly preaching at them. I would stand across the street — about sixty feet away — from the venue, and from there everyone at the Garden Party could hear my sermon. The men I brought along with me either held Bible verse signs or walked the sidewalks handing out Fellowship Tract League tracts.
One year, two sheriff deputies came up to me and said, Sheriff Dixon says you have to stop doing this and go home. I replied, tell Dan I plan to keep on preaching. If he wants to arrest me, go ahead. Imagine what that will look like on the front page of the Times-Recorder. The officers left and spent the rest of the evening glaring at me from across the street. Later that night, the church's priest came over to talk to me, asking if I thought I was accomplishing anything by preaching at people. I gave him my spiel about being a God-called preacher, and that I was following in the steps of Jesus, Paul, and the disciples. He smiled, and then said, have a nice evening. As he turned to walk away, he said, By the way, I want to thank you for your stand against abortion. 
Several days after the Garden Party, I had a sit-down with Sheriff Dixon at his office. I made it very clear to him that I intended to continue preaching on Perry County street corners, and that no matter how much his officers harassed me, I was going to continue doing God's work. Dan, himself, was quite opinionated and bullheaded, so we came to an agreement about my street preaching, with each of us clearly understanding the parameters of what was legal and illegal behavior. (I visited county prisoners on a weekly basis, so Dan knew me in a larger context than just street preaching.)
Over the decade I spent preaching on the streets of southeast Ohio, I had numerous run-ins with law enforcement. I was resolute about going to jail if necessary. No one was going to stop me from preaching the gospel. One weeknight, as I was preaching in front of the Crooksville, Ohio post office, a police car stopped in front me and the officer told me that I had to IMMEDIATELY stop what I was doing. The business owner across the street, the officer said, called to complain, so you have to stop. I looked at him and replied, "No." "NO?" the officer responded. "We'll see about that!" He hopped back into his car and hauled ass down the street. Ten minutes later, the officer returned, got out of his car, and with bowed head and mumbled words, said, the police chief says I have to let you do this. Just do me a favor, don't be here after dark. I can't protect you if you are. I replied I won't be. I'm not stupid (though my behavior suggested otherwise).
Street preachers are, to the man, arrogant assholes who have no regard for others. But, they have a constitutional right to be Assholes for Jesus®. Don Hardman taught me from the get-go that I had to be prepared to go to jail if need be; that many law enforcement officers were ignorant of the law and might wrongly arrest me for preaching on the street. The good news was that there were Christian lawyers who would make sure I was released from jail as soon as possible; that no one had been successfully prosecuted for street preaching. Much like Paul and Peter, I expected to be arrested one day for preaching the gospel. There's no greater feather in the cap of a street preacher than to be arrested for preaching or handing out tracts. Want to make a name for yourself in the street preaching fraternity? Get arrested and spend time in jail for proclaiming the gospel.
Being questioned or harassed by law enforcement was a sign, at least to me, that I was doing exactly what God want me to do; that if God wanted me to suffer for his name's sake, so be it. I was already something of a local celebrity, so getting thrown in the pokey would only have increased my celebrity status. Little did I know at the time that, sure I was a celebrity, but locals thought I was a fool. That's okay too, right? The Bible says in 1 Corinthians 4:10, We are fools for Christ's sake. Praise Jesus!
Bruce Gerencser, 66, lives in rural Northwest Ohio with his wife of 45 years. He and his wife have six grown children and thirteen grandchildren. Bruce pastored Evangelical churches for twenty-five years in Ohio, Texas, and Michigan. Bruce left the ministry in 2005, and in 2008 he left Christianity. Bruce is now a humanist and an atheist.
Connect with me on social media:
Your comments are welcome and appreciated. All first-time comments are moderated. Please read the commenting rules before commenting.
You can email Bruce via the Contact Form.