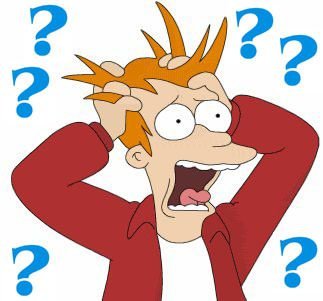 I put out the call to readers, asking them for questions they would like me to answer. If you have a question, please leave it here or email me. All questions will be answered in the order in which they are received.
Samantha asked:
I just read your post about your relationship with your father. I must say that I admire your transparency in reflecting upon these painful memories. My question is: Do you think it is possible that your relationship with your earthly dad contributed to you ultimately abandoning the notion of a loving Heavenly Father?
After writing the post Questions: Bruce, How Was Your Relationship with Your Father? I told my wife, Polly, that someone would likely say that my bad relationship with my father led to me leaving Christianity; that my relationship with my father affected how I viewed the Christian God. Polly replied, "you're kidding, right? Surely, no one would say THAT! She forgets that I am a prophet. 🙂 Actually, I recently listened to a Christian apologist asserting — without empirical evidence — that people who leave Christianity and embrace atheism have bad relationships with their fathers. In other words, Evangelicals-turned-atheists have "daddy problems." This is exactly what Samantha is suggesting in her comment above.
When I first read her comment, I felt like giving it the Bruce Gerencser Treatment®, but I decided, instead, to calmly, patiently, and pointedly answer her question. Samantha may be a first-time reader, so I want to give her the benefit of the doubt.
Samantha's language suggests she's a Christian: earthly father, heavenly (big F) Father. So I will answer her question with that assumption in mind.
First, why are fathers to blame for our deconversions, and not our mothers? Christians see a direct connection between earthly father to heavenly Father. However, for me personally, my mother had a far bigger influence on me than my father. It was my mother who taught me to read. It was my mother who fueled my passion for God, Christianity, the Bible, politics, and writing. That's why, when Mom killed herself at age 54, it broke my heart. Every year or so, I will go to her grave at Fountain Grove Cemetery in Bryan. I stand there and weep, wondering what might have been. Mom's been gone 30 years, yet I still grieve over what's been lost. Dad? I felt nothing when he died, and I don't feel much differently today. I know my siblings feel differently, so I respect their grief, even if I can't "feel" it.
Second, what is the direct connection between my non-existent relationship with my father and why I deconverted? I wonder if Samantha has read any of my autobiographical writing? (Please see WHY?) If she has, surely she knows WHY I deconverted. My relationship with Robert Gerencser had nothing to do with why I walked away from Christianity. And I mean NOTHING!
Third, countless Christian apologists and zealots have attempted to deconstruct and discredit my story. Fourteen years and thousands of emails, blog comments, and social media messages, yet not one person said that I had a faulty view of God, that my relationship with my father warped my view of the God of the Bible. Yet, the moment I write about my father for the first time, a Christian seizes on a perceived weakness or flaw in my story, suggesting that I would still be a Christian if I had had a "good" relationship with my father. Such people assume they know what a "good" parental relationship is — do tell. Further, they assume that there is one view of the Biblical God — do tell. And finally, they assume that past experiences determine our future — do tell.
Fourth, who, exactly, is this "heavenly Father" Samantha speaks of? Surely she knows that every Christian molds God in their own image, that our "God" eerily looks, thinks, and acts just like us. Yet, Samantha assumes that her "heavenly Father" is the one true God, and that if I had worshiped her deity, I might still be a Christian.
Fifth, my understanding of the nature of God was rooted in the words of the Bible, not my relationship with my father. Do our experiences affect how we view the world? Sure. Polly and I have been married for 43 years. No one knows me like she does. She knows, because she has been along for the ride, that I have wanderlust, that I bore easily, that I am always looking for new things to do. That's why we lived in a lot of houses. That's why I worked a lot of jobs — dozens and dozens of jobs. That's why I pastored seven churches. Is my father to blame for my wanderlust? After all, my life as a child and teenager was one of constant movement. Surely, there's a connection, right?
I have Obsessive-Compulsive Personality Disorder (OCPD), along with depression. I have seen the same counselor for a decade. We have talked about my wanderlust many times, and will likely do so again next week as we discuss the post about my father.
In patients with obsessive-compulsive personality disorder, preoccupation with order, perfectionism, and control of themselves and situations interferes with flexibility, effectiveness, and openness. Rigid and stubborn in their activities, these patients insist that everything be done in specific ways.
Polly says, "I know that person. And I still love him." 🙂
OCPD and OCD are similar, but not the same. People who have OCPD tend to choose certain behaviors, seeing them as rational and best. The description above says people with OCPD have a "preoccupation with order, perfectionism, and control of themselves." What does that sound like to you? Right beliefs. Right living. Do THIS, Believe THIS . . . Is this not the essence of Evangelical Christianity, particularly Independent Fundamentalist Baptist (IFB) Christianity? Sure, my childhood played a part in the development of OCPD in my life. However, if I were to place the blame on anyone or anything, it would be the IFB churches I attended as a child and teenager, and the pastors, youth directors, and Sunday school teachers who indoctrinated me in the "one true faith." Who made a deeper and lasting imprint on my life? A non-involved, disinterested father, or so-called men of God who took an aggressive interest in conforming me to their interpretations of the King James Bible? That's a rhetorical question, by the way.
I admit that my childhood made a deep, lasting mark on my life. How could it not? I can't unsee my mother's suicide attempts and mental illness. I can't "unfeel" my father's lack of love for me. My life is the sum of my experiences. However, I would argue that these experiences have made me a better man; that I am a loving, kind, and compassionate person, having long cared for the "least of these," all because of the pain and suffering I have experienced in my life (and continue to experience).
Finally, until writing the aforementioned post, I hadn't thought about my dad in years. Writing this post has proved to be painful, dredging up things long buried in the deep recesses of my mind. I told Polly last night that I regret answering Logan's question. Now my mind is filled with numerous other stories I could have shared — few of which would paint my dad in a positive light. I suspect it will take therapy to return these memories to where they belong.
I shared my feelings about Logan's question with Carolyn, my editor. She told me, "Bruce, you don't have to answer every question." Of course, she's right. However . . . OCPD. I have to work the list, answer the questions in the order in which they are received. I can't not answer Logan's or Samantha's or even "Dr." I-Give-Christianity-a-Bad-Name David Tee's (though he is now banned) questions. Sometimes, I just need to decline to answer, tell them their questions are intrusive/offensive, or maybe, just maybe, I need to tell such people to fuck off. Or, I could just blame dad. 🙂
Bruce Gerencser, 66, lives in rural Northwest Ohio with his wife of 45 years. He and his wife have six grown children and thirteen grandchildren. Bruce pastored Evangelical churches for twenty-five years in Ohio, Texas, and Michigan. Bruce left the ministry in 2005, and in 2008 he left Christianity. Bruce is now a humanist and an atheist.
Connect with me on social media:
Your comments are welcome and appreciated. All first-time comments are moderated. Please read the commenting rules before commenting.
You can email Bruce via the Contact Form.