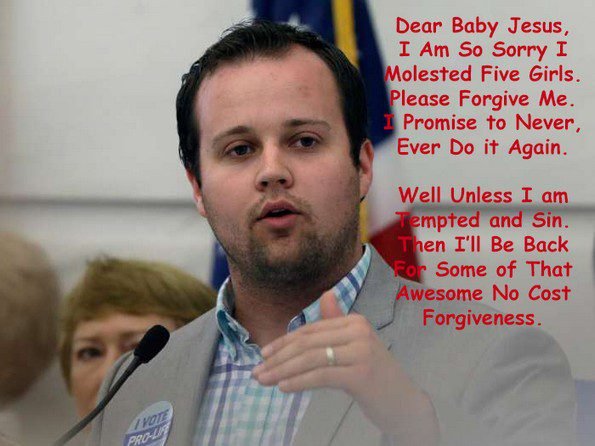 Repost from 2015-2016. Edited, updated, and corrected.
One would think decent, thoughtful people would agree that a fifteen-year-old teen boy touching the genitals of five little girls is criminal. One would think decent, thoughtful people would agree that we should do all we can to protect children from those who will use them for sexual gratification. One would think that decent, thoughtful people would agree that covering up and not prosecuting sexual abuse is not in the best interest of the victims or society.
One would think . . . and you'd be wrong. I have been astounded by Evangelical excuses, justifications, explanations, and dismissals of Josh Duggar's criminal sexual assault of five girls. Consider for a moment the universal condemnation of Congressman Dennis Hastert over his decades-old sexual abuse of a student of his. According to Hastert's indictment, he paid a male student $1.7 million "in order to compensate for and conceal his prior misconduct against" him. Hastert used money to cover up his criminal behavior just as Jim Bob and Michelle Duggar used their influence to cover up their son's crimes. Why is one universally condemned and the other explained away as nothing more than a teenager "playing doctor," a "youthful mistake," or "that's what boys do"?Let me illustrates this with three Facebook comments made by Fundamentalist Christian, Quiverfull defender, Duggar and Bill Gothard loving Rick Boyer: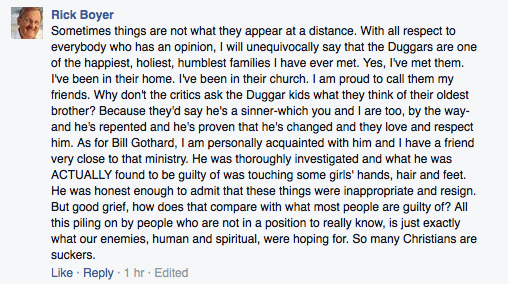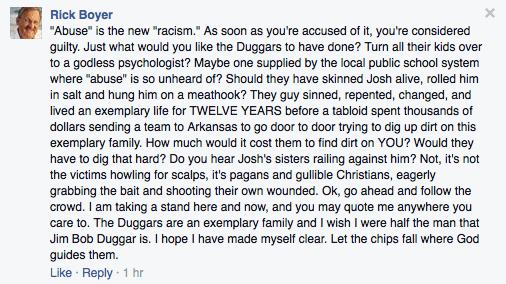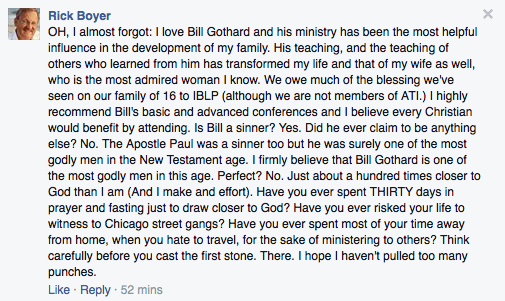 Let me cut through all Boyer's super spiritual, holier-than-thou, braggadocious, religious bullshit. He is using the "we are all sinners" argument to defend, excuse, justify, and explain away a 15-year-old boy putting his hands on little girls vaginas and a grown man who manipulated and sexually molested girls and young women.
It seems that any time a darling of Evangelicalism finds himself in a compromising or criminal position, the first excuse trotted out by his defenders is "we are all sinners." While I don't believe in the Christian concept of sin, for the sake of this post, I am going to accept as valid the notion of sin. I will then, in the rest of this post, gut the "we are all sinners" argument.
First, we may all be sinners, but most of us don't sexually molest children or groom and assault girls and young women. Such behaviors are deviant and vile and deserve punishment. We the people, through our elected officials, have enacted laws that protect children and vulnerable adults from predators like Josh Duggar and Bill Gothard. Thanks to the statute of limitations and a big help from law enforcement, neither of them will be prosecuted. The fact that they are not being prosecuted doesn't mean that they are not guilty. Both admitted their behavior, though their admissions leave a lot to be desired. One would think that this would be enough for people like Rick Boyer, but it isn't.
Imagine if Richard Dawkins, who was abused as a child, was accused of molesting five little girls. Why the Evangelical outrage would be swift and earsplitting. Evangelicals would demand his prosecution and would write voluminous blog articles about Dawkins's crimes against children being proof that there is no morality without God. And here's the thing: atheists such as myself would demand Dawkins be prosecuted. Because the issue is CHILD ABUSE, and not obtuse, never-ending arguments about sin, God, and morality. We have laws, and we expect people to obey them. Both Duggar and Gothard broke the law. They got by with their crimes because people covered up their behavior. It wasn't until a victim made her story public or an investigative reporter sussed out the facts, that the public learned about their crimes. And, as a person who thinks the rule of law is important, and that protecting children is a key part of a just society, I expect people like Josh Duggar and Bill Gothard to be prosecuted for their criminal behavior.
Second, Rick Boyer blames all the outrage on pagans and gullible Christians. This is blame-shifting extraordinaire, a game played by those who want to deflect criticism or judgment. Anyone who has raised children has seen this game played. Johnny gets caught throwing food at Sally and when his Mom confronts him he says, "but Rudy," Johnny's little brother, "was throwing food too." Mom rightly replies, "but I am talking to you, Johnny, about what you did, not what Rudy did." The wise parent does not let her children blame-shift. Those who do end up having children like Rick Boyer.
I thought Evangelicals were the personal-responsibility wing of Christianity. Since their politics are overwhelmingly right-wing, they have demanded Barack Obama and Hillary Clinton accept responsibility for what was done on their watch. Yet, when it comes to Josh Duggar and Bill Gothard, many Evangelicals are strangely quiet about "personal responsibility." (And don't get my started on the immoral and criminal behavior of baby Christian Donald Trump.) Why is this? Why has this been the case my entire life? Big-name Evangelical preacher gets in trouble and his defenders flock to the Internet and protect their boy. No matter the crime, they are quick to justify and forgive. I wonder if they would be so understanding or forgiving if it were their daughter or granddaughter who was sexually molested by Josh Duggar or Bill Gothard? Something tells me that they would be calling for the perpetrator's head to be cut off as swiftly as Geoffrey cut off Ned Stark's head in Game of Thrones.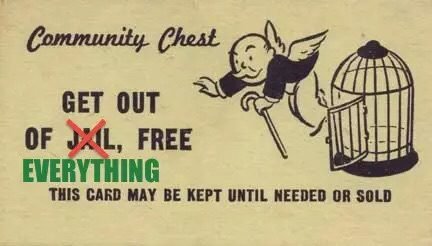 Third, it seems that no matter what an Evangelical superstar does, the God of forgiveness and the blood of Jesus provide a get-out-of-jail-free card. While Evangelicals will feign concern for the victims, their real concern is for the perpetrator. He's a star, and is so important to God and his work here on earth that anything and everything he does must be forgiven. No matter the crime, the sin slate must be wiped clean. After all, King David, a man who committed adultery, was a polygamist, and had a man murdered so he could fuck his wife, is called in the Bible, a man after God's own heart. If King David can have his slate wiped clean and be best buds with God again, surely the same can happen for Josh Duggar and Bill Gothard, right?
Sadly, Evangelical beliefs about sin, atonement, and forgiveness turn Evangelicals into lobotomized lemmings unable to see things as they are. What we have with Josh Duggar and Bill Gothard are clear cases of sexual abuse and abuse of power. Every non-lobotomized person knows this. The facts aren't in dispute, yet many Evangelicals blithely preach up the love, grace, and forgiveness of God as an excuse for heinous behavior that is rightly condemned by Christian and atheist alike. It's only Evangelicals who are defending these men. Why is this?
Most Evangelicals believe that the forgiveness of ANY sin is but a prayer away. The Bible says in 1 John 1:9:
If we confess our sins, he is faithful and just to forgive us our sins, and to cleanse us from all unrighteousness.
Let me use an extreme example to explain Evangelical thinking about sin and forgiveness. There are eight people in the Roberts family. The Roberts are a Christian family, noted for their love and devotion to Jesus. Well, except for Becky. Becky is sixteen and she has a boyfriend who is not a Christian. Her parents demand that she break up with Clint and never see him again. They remind her that the Bible says that believers are not to be unequally yoked together with unbelievers and God says premarital sex is a sin. Becky continues to see Clint, often sneaking out of the house late at night, meeting Clint at their "special" place. Over time, Becky becomes so angry at her parents and their constant Bible-quoting and judgmental attacks on Clint that she decides to kill her family, all seven of them. Her boyfriend, enthralled with Becky and the sex they shared, says he would be willing to help her kill her mother, father, and six siblings. And one night, that is exactly what they did.
According to people like Bill Boyer and other grace-and-forgiveness Evangelicals, forgiveness for Becky is only a prayer away. She was a love-struck teenager, kinda like Josh Duggar, and even though she did horrible things, one simple, heartfelt prayer will wipe away the blood of her dead family. Isn't God awesome?
Oh Bruce, such a fantastical story, one that would never happen in real life. Really? Then you have never heard of 16-year-old Evangelical teenager Erin Caffey who is serving two life sentences plus twenty-five years for the slaughter of her mother and two brothers and the attempted murder of her father in 2008. Let me ask you, dear readers, would you or could forgive your daughter for slaughtering your entire family? Yet, according to Evangelical belief, forgiveness is not only just a whispered prayer away, it is demanded by God regardless of the circumstance.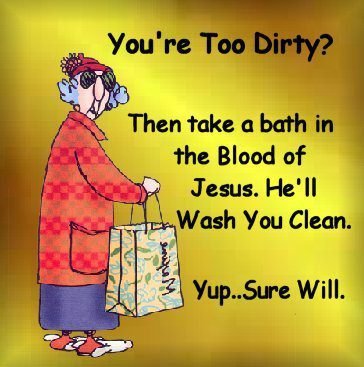 Erin Caffey's father Terry, being the good Christian that he is, forgave his daughter and the boyfriend and two friends that murdered his two children and wife. Here's what Caffey had to say:
"I planned my own suicide. I decided that when I got well enough to travel, I was going back to my property, and I was going to end it. So when that day came, I went back there and stood on the ashes and began to cry to God. I said, 'God, I don't understand why you took my family. Why did you do this? I just don't understand.'

"No sooner than I said that, I looked down and saw this scrap piece of paper from a book. It was burned around the edges. I picked it up, and it read, 'I couldn't understand why you would take my family and leave me behind to struggle along without them. I may never totally understand that part of it, but I do know that you are sovereign. You are in control.' When I read those words, I was like, 'Wow.' It brought me to my knees."

"People ask me, 'How could you forgive your daughter and how could you forgive those who murdered your family?' I am not trying to justify anything. This is my daughter."
Sadly, because of Evangelical indoctrination, Terry Caffey has lost the ability to feel anger and hate. As a father, I understand the love a father has for his children, but every child can cross a line where no love and forgiveness remain for him or her. Evangelicals have had drilled into their heads the idea that they must love unconditionally and forgive any and all who transgress against them. Besides, someday, in the sweet by and by, Terry will be reunited with his murdered children and wife. And Erin will be there too, maybe with her fellow murderers who found Jesus while in prison. One big happy murdered family reunion. Until their reunion in God's Big House, Terry Caffey travels America telling his story. Caffey has a ministry called A Cross America Ministries: Enabling Today's Youth to be Tomorrow's Christian Leaders. He has written a book, been the subject of a People Magazine feature, been on the Dr. Phil Show, and has a new wife and kids.
I wonder, if there were no Heaven, would Terry Coffey be so forgiving? Would Evangelicals be so willing to forgive and forget the crimes of Josh Duggar and Bill Gothard, and uncounted other Evangelical superstar abusers and perverts, if there were no divine payoff in heaven? (Please see Black Collar Crime Series.) Evangelicals are taught that forgiveness is mandatory. As God has forgiven them, so are they to forgive others. Now, in real life, the forgive-everyone requirement is often ignored. As those of us who were in the Evangelical church for many years know, some of the most mean, nasty, vile, unforgiving people can be found at First Baptist Church on Sunday morning at 11:00 a.m. And some of them are standing at the pulpit.
Fourth, this post is getting way too long, but let me take some time to point out the hypocrisy of Evangelicals such as Rick Boyer. If two consenting adult men have sex, Evangelicals are outraged. If two consenting adult lesbian women get married, Evangelicals are outraged. From gay sex to non-married hetero-sex to teenage blow jobs, Evangelicals are outraged. Quoting a plethora of Bible verses that many of them secretly ignore, and calling on God to judge America, but just don't judge them, they demand Biblical justice be meted out to these unwashed, uncircumcised Philistines. What happened to grace and forgiveness? Well Bruce, Josh Duggar and Bill Gothard confessed their sins, God forgave them, and they promised to never, ever, one time, I mean never, never ONE time, touch a little girl or young woman again. Those queers, adulterers, and fornicators refuse to stop their sin, so there is NO forgiveness for them!
Way too many Evangelicals naïvely believe that people such as Josh Duggar, Bill Gothard, Jack Schaap, Geronimo "Pastor G" Aguilar, David Hyles, Jimmy Swaggart, John Paulk, Jack Hyles, Paul Crouch, Douglas Goodman, Ted Haggard, Earl Paulk, Paul Barnes, Lonny Latham, Michael Reid, Todd Bentley, Tony Alamo, Eddie Long, Gilbert Deya, Coy Privette, Joe Barron, George Rekers, David Loveless, Isaac Hunter, Sam Hinn, Paula White and uncounted other Evangelical superstars, have stopped doing what got them in trouble. Why should they stop screwing church members, abusing children, and acting in ways most respectable people would consider decadent? Just pray, be contrite, promise never to do it again, wink, wink, and all is well.
What these modern-day Elmer Gantrys have learned is that Evangelicals are gullible, always ready to love, forgive, and forget. Perhaps some of them have learned their lesson and stayed on the straight and narrow, but my gut and six decades of exposure to Evangelicalism tells me that what has really happened is that they have learned to be more careful. I am of the opinion that all the Jesus, praying, and forgiving in the world won't fix a child molester. Those who desire and molest children will continue to do so until they are stopped. Anyone who thinks Josh Duggar's or Bill Gothard's behaviors are one-time events, never to be repeated, is either ignorant or fell on his head when he was a kid. This is why I support the incarceration (and treatment) of child molesters. Children will never be safe as long as we treat child molesters as sinners who can be fixed by God, prayer, and forgiveness.
Is Josh Duggar a pedophile? I don't know. I do know he molested five girls and this is enough for me to say that he should never be allowed near children. Mark my word, in a few years Josh Duggar will write a book and start a ministry that will extol the wondrous grace of God; how that God forgave and delivered Duggar from his sins. And many Evangelicals will embrace him as the father did the prodigal son. All will be forgiven and no one will consider whether Josh Duggar might be a pedophile who should never, ever be allowed to be near children again.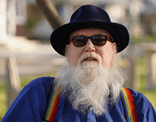 Bruce Gerencser, 65, lives in rural Northwest Ohio with his wife of 44 years. He and his wife have six grown children and thirteen grandchildren. Bruce pastored Evangelical churches for twenty-five years in Ohio, Texas, and Michigan. Bruce left the ministry in 2005, and in 2008 he left Christianity. Bruce is now a humanist and an atheist.
Connect with me on social media:
You can email Bruce via the Contact Form.
Your comments are welcome and appreciated. All first-time comments are moderated. Please read the commenting rules before commenting.