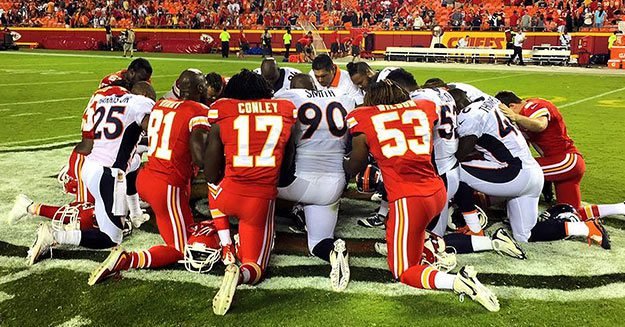 In a move that is certain to shake the very foundation of masturbatory Evangelical Christianity, the National Football League (NFL) told players they would not be permitted to have prayer spectacles after games. That's right, players will have to keep their piety to themselves.
Is this not yet another sign that evil atheists and secularists have taken over America? First, these tools of Satan took over our schools and Costco, and now they have infiltrated the One True Church — The NFL. Where will it all end?
I call on Evangelical football players to take a stand by wearing Evangelical Prayers Matter shirts. Regardless of the anti-prayer edict from NFL commissioner Roger Goodell, "Give God All the Glory" players should gather after the games at the fifty-yard line, kneel, lift up holy hands — especially wide receivers and tight ends — and pray.
If Evangelical football players don't stand their ground, the Christian God will no longer bless their endeavors. Worse yet, without players praying, Western Civilization will collapse. Forget all that Black Lives Matter nonsense. All that matters is pretense and making a show. Everybody knows that God only hears prayers when there's an audience.
And when Evangelical football players prayest, thou shalt not be as the hypocrites are: for they love to pray kneeling at the fifty-yard line, that they may be seen of men. Verily I say unto you, their fame is their reward. But thou, when thou prayest, enter into the corner of the locker room, and when thou hast shut the door, pray to Jesus which is in secret; and he which seeth in secret shall reward thee openly with more catches, touchdowns, tackles, sacks, and interceptions. (Matthew 6:5-6, NFLV)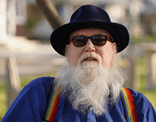 Bruce Gerencser, 65, lives in rural Northwest Ohio with his wife of 44 years. He and his wife have six grown children and thirteen grandchildren. Bruce pastored Evangelical churches for twenty-five years in Ohio, Texas, and Michigan. Bruce left the ministry in 2005, and in 2008 he left Christianity. Bruce is now a humanist and an atheist.
Connect with me on social media:
You can email Bruce via the Contact Form.
Your comments are welcome and appreciated. All first-time comments are moderated. Please read the commenting rules before commenting.