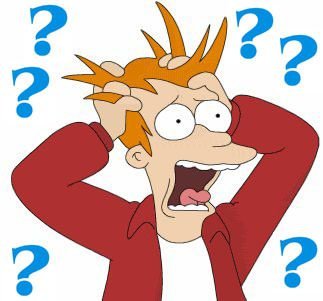 I recently asked readers to submit questions to me they would like me to answer. If you would like to submit a question, please follow the instructions listed here.
Becky asked, "Questions: Bruce, Is Rural Northwest Ohio Less Prejudiced Than When You Were a Child?"
Rural Northwest Ohio is about as white as a Mississippi Ku Klux Klan meeting. In the 1970s, I attended Findlay High School, one of the largest high schools in the state of Ohio. There were two black students in the whole school — a brother and a sister. I spent the early years of my life in Bryan, Ohio. There were no black people who lived in Bryan. Even today, very few Blacks live in Bryan or the surrounding area. I saw my first black person at the age of five — a porter on the train we were riding from Chicago to San Diego. Every public school I attended was as white as white could be. I don't blame this whiteness on the people who live in rural Northwest Ohio. It's not their fault that everyone happens be white. That said, living in homogeneous communities and not being exposed to racial diversity tends to breed racist beliefs. The closest rural Northwest Ohio comes to having a minority population is the sizable number of Hispanics who call this part of Ohio home. But even here, I have vivid memories of how family members, church members, and my friends thought of "Mexicans." Many of the Hispanic families in rural Northwest Ohio trace their lineage back to family members who came here as migrant workers. These workers would pick local crops and then move on. Some of them decided to stay, putting down roots and having children. Thanks to automation, most farmers no longer need migrant workers. There are still a few working farms that hire Hispanic transients to pick their labor-intensive crops. If these farmers had to rely on local whites to harvest their crops, their tomatoes, squash, sweetcorn, and other crops would be left on the ground to rot.
I recognize that I am a white man raised in a white culture. My interaction with nonwhites is somewhere between little and none. I had a black college roommate, but he spent his four years of college trying to be white. I now have several local Hispanic friends, but this doesn't mean that I truly understand the vagaries of their culture. I'm a white man in a white world, and as long as I live in rural Northwest Ohio, that's not going to change. Fortunately, attending college in Pontiac, Michigan, living in San Antonio, Texas, and managing restaurants in Columbus, Ohio exposed me to people of color. The beginning of the cure, then, for racism, is exposure to people who are different from us. I've known more than a few homophobes, yours truly included, who saw the light after they met someone who was gay or who had one of their children come out of the closet. There's nothing better than exposure to people different from us to force us to deal with our deeply rooted bigotry and racism. As a sixty-one-year-old man, I can say that I've come a long way when it comes my attitudes about race and human sexuality. That said, I don't believe for a moment that I have been miraculously delivered from the conditioning of the first forty or so years of my life. All I can do is confront racism and bigotry in my life when it shows itself.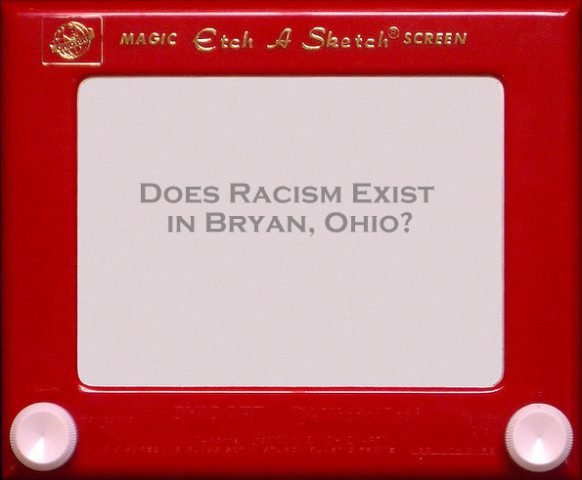 The rural Northwest Ohio of my youth was stridently racist. Anyone who suggests otherwise is living in denial. In 2015, I wrote a post titled, Does Racism Exist in Northwest Ohio? Here's an excerpt from what I wrote:
I am a member of the Growing Up in Bryan, Ohio Facebook group. The group is made up of people who live/lived in Bryan, Ohio. Recently, the subject of racism was brought up and this provoked a lively discussion about the state of race relations in Bryan. This got me to thinking: does racism still exist in rural Northwest Ohio and Bryan? Have we reached a place where we live in a post-racial era? Before I answer this question, I want to spend some time talking about demographics and my own experiences as a resident of northwest Ohio.

….

In 1995, I moved back home to northwest Ohio, pastoring a church in Alvordton for a short time and pastoring a church in West Unity for seven years. Polly and I have lived in this area now for 17 of the last 20 years. This is our home. Our six children and ten grandchildren all live within 20 minutes of our home.

It was during my time as pastor of Our Father's House in West Unity, that I began to address my own latent racism and the racism that percolated under the surface of the local community. As my politics began to move to the left, my preaching took on a social gospel flavor and this included preaching on race, racism, and race relations.

When a church member would talk about colored people I would ask them, so what color were they? Oh, you know what I mean, preacher! Yes, I do. So, how is the color of their skin germane to the story you are telling? I did the same when members talked about "those" people, those meaning blacks, Mexicans, or welfare bums.

What made things difficult was that we had a black man attending the church. He was a racist's dream, the perfect stereotype. He was on welfare, didn't work, lived in Section 8 housing, had an illegitimate child, and spent most of his waking hours trying to figure out how to keep from working. The church financially helped him several times and we brought him groceries on numerous occasions. One time he called me and told me he needed groceries. I told him that I would have someone bring over some groceries. He then told me, preacher, I'm a meat and potato man, so I don't want no canned food. Bring me some meat. He's still waiting for those groceries to be delivered.

As I read the comments on the Growing Up in Bryan, Ohio Facebook group, I noticed that there was an age divide. Older people such as I thought Bryan was still, to some degree, racist, while younger people were less inclined to think Bryan residents were racist or they thought local racists were a few bad apples. I think that this reflects the fact that race relations are markedly better now this area.

The reasons are many:

Older generations — those raised in the days of race riots, Martin Luther King Jr., and Jim Crow — are dying off.
Local residents are treated by doctors who are not white.
Interracial couples now live in the area.
Migrants workers, once a part of the ebb and flow of the farming season, are now permanent residents.
Younger adults and teenagers no longer think race is a big deal.
Music and television have brought the world to our doorstep, allowing us to experience other cultures.
Sports, in which the majority of athletes in the three major professional sports — football, basketball, and baseball — are non-white. Cable and satellite TV broadcast thousands of college and professional games featuring non-white players.

Exposure breeds tolerance. Bigoted attitudes about gays and same-sex marriage are on prominent display in rural northwest Ohio. These attitudes remind me of how things once were when it came to race. Time and exposure to people who are different from us can't help but change how we view things such as race and sexual orientation. My children are quite accepting and tolerant of others, and I hope that these attitudes will be passed on to my grandchildren. We are closer today than we ever have been to Martin Luther King's hope of "a day when people will not be judged by the color of their skin, but by the content of their character."

We haven't arrived. Latent, subtle racism must continue to be challenged. Unfortunately, on both sides of the political divide, there are those who use race and fear to stoke distrust and hate of those who are different. We must forcefully marginalize those who want to return America to the 1950s. We must also be willing to judge our own attitudes about race. We enlightened liberals gleefully look at the extreme right and we see racism and bigotry in all its glory. Yet, if we are honest, such things exist in our own backyard. None of us can rest until we have achieved a post-racial world. We have much work to do.
Three years after writing this, I continue to see progress on the race front with younger locals. These teenagers and young adults are much more tolerant and nonjudgmental than their parents and grandparents. They also are much more likely to vote Democratic. That said, their racist and bigoted parents and grandparents, thanks to the election of Donald Trump, are far more likely these days to express racist thoughts on social media and in private conversations. Donald Trump and his lackeys have, in one way, done us a big favor. The president's overtly racist tweets and abhorrent immigration policies have ennobled local racists, giving them permission to fly Confederate flags and preach the gospel of white Christian nationalism and white superiority. The good news is this: we now know who the racists are. From this perspective, it seems that little progress has been made on the local front. However, I'm confident that once Baby Boomers and The Great Generation die off, their white and proud thinking will die with them. I am not so naïve as to believe that rural Northwest Ohio will ever be free of racism, but I'm confident that there is coming a day when racist bigots will be so marginalized that their bigotry will be little more than a minor inconvenience. We are not there yet, but I see the train picking up steam. Once the bigot who resides in the White House is either impeached or voted out of office — along with all those who supported and enacted his abhorrent policies — I have no doubt a better tomorrow lies ahead.
About Bruce Gerencser
Bruce Gerencser, 61, lives in rural Northwest Ohio with his wife of 40 years. He and his wife have six grown children and twelve grandchildren. Bruce pastored Evangelical churches for twenty-five years in Ohio, Texas, and Michigan. Bruce left the ministry in 2005, and in 2008 he left Christianity. Bruce is now a humanist and an atheist. For more information about Bruce, please read the About page.
Bruce is a local photography business owner, operating Defiance County Photo out of his home. If you live in Northwest Ohio and would like to hire Bruce, please email him.
Thank you for reading this post. Please share your thoughts in the comment section. If you are a first-time commenter, please read the commenting policy before wowing readers with your words. All first-time comments are moderated. If you would like to contact Bruce directly, please use the contact form to do so.
Donations are always appreciated. Donations on a monthly basis can be made through Patreon. One-time donations can be made through PayPal.