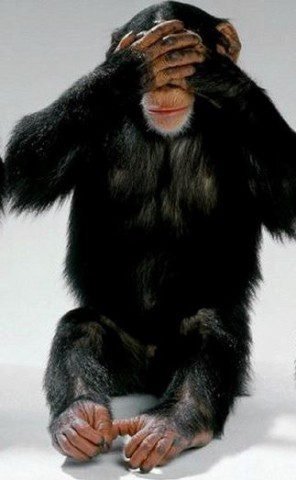 When Jack Schaap, former pastor of First Baptist Church in Hammond, Indiana — now a convicted felon — was accused of having a sexual relationship with a teenager in his church, apologists for the Independent Fundamentalist Baptist (IFB) church movement and the Hyles/Schaap crime family came out in force to defend their own. They told me things like:
He is a man of God and he wouldn't/couldn't do such a thing
The girl was a whore
The girl seduced him
The girl was "almost" of age
If Schaap hadn't taken her across the State line, the sex would have been consensual
Before I deal with these claims, let me remind readers of how Schaap groomed this girl; how he emotionally manipulated her so he could have sex with her. Here are some of the messages that Schaap sent the girl:
From a birthday card
I can't get you out of my mind. I keep thinking about how much I enjoy talking with you, how great you look when you smile, and how much I like your laugh. I daydream about you off an on all day, replaying pieces of our conversation . . .laughing again about funny things you said or did. I've memorized your face and the way you look at me . . . it melts my heart every time I think about it. And I catch myself smiling when I imagine what will happen the next time we're together. You must be something really special, because I can't remember the last time I felt so strongly about someone. Even though neither of us knows what the future holds, I know one thing for sure – you're one of the very best things that's happened to me in a long time.
From a handwritten letter
Hi [Jane Doe],
Because my time with you is so limited, I find great comfort in writing to you. Certainly it is no substitute for being with you – nothing is – in fact, being with you is unlike anything I have ever experienced.
You have a gift of making me feel more alive and more happy than I have ever felt! THANK YOU! I've been doing much thinking about you – our brief journey together has been like a spiritual allegory (a story that illustrates a truth . . .
Your life began to deteriorate w/ actions + activities that were self-destructive + that would have brought great tragedy eventually. Then, as your Pastor, I began to counsel you [unintelligible] you to God, the truth, and to a better path of living – that's what we call Righteousness. Almost immediately, I felt such a profound tug in my heart for you – an intense desire to pull you away from destructive habits + to pull you into pure love + acceptance. I felt the only hope I had to truly make that difference was to pull you 1st to myself – if I could get you to trust me + open your heart to me. I could not have anticipated or hoped for what happened.
You opened your heart wide to me – you made me more than a Pastor/Rescuer – you made me your friend your confidant, your beloved. You gave me your trust, your heart, your love, + your affection. [Unintelligible] must feel when a sinner makes Him more than a Savior – he/she makes Him a beloved lover + friend. I have never felt so truly loved in my life. It is a feeling that is incomprehensible! (off the charts)In our "fantasy talk," you have affectionately spoken of being "my wife." That is exactly what Christ desires for us. He wants to marry us + become eternal lovers!
I tried to craftily catch your heart so that I could lead you into a better life. You have caught my heart + I have never felt so loved by anyone! Thank you[Jane Doe]. Thank you for the privilege of helping a struggling teenager. Thank you for opening your heart. Thank you for your trust. Thank you for your love. My hope and prayer is that someday you will comprehend what an impact you have made on your Pastor and friend.
[Jane Doe] you have such a wonderful life ahead of you. I must be careful not to spoil that with any of my selfish fantasy desires. It would be grossly unkind to you for me to hold you captive in any fashion. When we get scared, Jesus sends His spirit to live within us. But He does not personally live with us. He waits until we have fully matured before he takes us to Heaven to live with Him. Yes, there are exceptions, but they are exceedingly so – sorta like [name redacted] (sp?) or a young child dying too young.
I must follow the example of Christ. I have espoused you to Him as a chaste virgin. You are pure + lovely + perfect in His eyes. Now you must mature in His grace until the time he brings you to Himself. Until then, I am here to guide you + help you. [Unintelligible] your heart.
I could only wish you would carry my love for you with you + in you forever. For me to wish for more would only be hurtful to the beautiful life He has planned for you. I will die 10,000 deaths knowing I cannot have you in my life as I would desire. But I would far rather die those deaths than to hurt you in any way by injuring your future.I would gladly do anything for you + I must lay down my life – my desires – for you
I will ALWAYS be here for you [Jane Doe]!! Always And I will carry you in my very soul as a part of me forever. I 've never met anyone like you. Please keep on becoming what you are becoming now. I've tried to point you in the right direction. PLEEEAASSE don't ever go back to what you were when we found each other. That would put my soul in Hell!
I promised you I would do anything to help you – and I have shown you what I mean by that. I still promise you I would do anything TO HELP YOU but I be me let + can you when see to by stop time- time from Text you! hurt would that anything do>part of your life + decision-making. But live your life – the life God has for you. Be 17 + enjoy this great stage of life. I'll always be watching + always be pulling for you. I will always love you –
FOREVER! Your BFF, Pastor.
From another handwritten letter
Hey Baby, Hope you slept well.
I'm sitting at my table reading the Words that help me through powerful emotions that are surging through me. I miss my Bible Reading partner. It was fun to have our Bible Study yesterday morning. I Have my good music on – "I will trust in You" + the "Power of the Cross." Good music drives me to the Scriptures to find the strength to go forward when my emotions want me to "freeze" time + go back to yesterday.
No matter how glorious the past, the future is the only direction we can go without dying inside. The past 3 days w/ you were beyond my imagination :! But what I hope you take from this wk. is more than the "magic" we enjoyed but also some better understanding of how incredibly important + special + awesome you are to Jesus! I wanted you to feel + know how much He loves you! I wanted to let some of the hurt + headache – the bad hurt – out of your heart.
This week, [Jane Doe], I tried to climb into your heart and write the graffiti of the Gospel on the walls. I wanted to spray paint in Neon colors that you are Priceless + Precious + are "off the charts" important – yes – to me personally -but especially to OUR Savior Jesus Christ. I'm reading my Bible now to draw a little closer to God – even if it's a millimeter closer – because if we both get a little closer to Him, we also get closer + stronger + deeper w/ each other.
Every relationship not built around that truth eventually must die – that's what happened w/ you + J. And that's why afterwards you pursued "dead" things + "dead"relationships. My passion this week was to show you a living relationship + how to keep it alive! [Jane Doe], however, whenever God takes our love, we never have to[unintelligible] to each other. Keep pursuing Good and we keep living because He is Life!!
I have a special gift for you that I want to give you Sunday if you would stop by my office when you arrive. Also, I really want you to download the App Olive Tree Bible Reader when you get it, I'll teach you how to use it.These days w/ you are tattooed on my heart + in my mind – Forever!
But these days, also gave me great insight to the profound needs of my teens + young adults. You've helped me. Finally, I want to thank YOU for giving me something I was not planning to receive. Through you, I have felt very loved by God. I gave Him my heart when I was 5, I gave Him my life when I was 17. And yes I love Him + know Him +understand much about Him, but, sometimes I just need to "feel" His love in away that only He can provide . . . and this week, through you, I have "felt" His love.
I absolutely cannot thank you enough!! It is obvious to me that God must trust you very much. He gave you the work of caring or ministering to His servant- just as the angel ministered to Jesus in the Garden of Gethsemine. Of course,you have been given enormous responsibility. The Scriptures do not tell us what the Angel said, how he arrived or how he left + apparently no one knows to this day – 2000 years later – what happened. That's a very wise Angel! And so are you, Baby! 1432444!!!!!
From the Sentencing Memorandum of Jack Schaap.
Jack Schaap is not an outlier when it comes to sexual misconduct and abuse in the IFB church movement. His father-in-law Jack Hyles and his brother-in-law David Hyles preceded him at First Baptist in Hammond. Jack Hyles had a least one inappropriate sexual relationship and David Hyles had dozens. The list of abusers and predators that were trained by Jack Hyles and Hyles-Anderson College is long. Taken cumulatively, they make one think there is something very wrong in Hammond and other IFB schools and churches.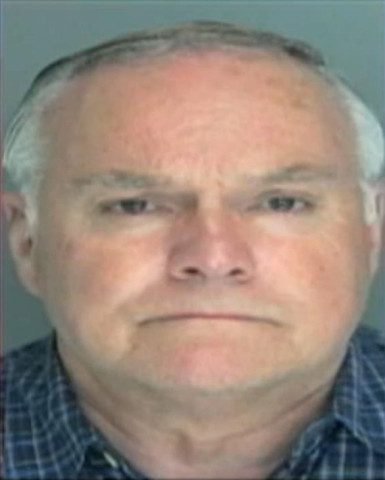 In 2013, Bethany Foeller Leonard alleged that Bill Wininger, pastor of King's Way Baptist Church, Douglasville, Georgia, molested her 20 years ago when he was the pastor of North Sharon Baptist Church, Grass Lake, Michigan. Several other women came forward and added their voices to Leonard's accusation. Due to the statute of limitations, Wininger will never face justice for what he did in Michigan, but Leonard"s accusation did result in his resignation from King's Way. In an unrelated case, Wininger was arrested and charged with four counts of misdemeanor battery of a female church member. He was sentenced to probation and court-ordered counseling.
When Leonard first made her accusation, apologists for Pastor Bill Wininger loudly defended him and said Leonard was lying. Some of you may remember the comments and emails I received when I first wrote about Bill Wininger being outed as a sexual predator.
Apologists for the IFB church movement and Bill Wininger couldn't call Bethany Foeller Leonard and the other women sluts, whores, home wreckers, or church destroyers. After all, they were little girls, the age my granddaughters are now, when the abuse took place. So, they had to take a different approach when defending the most holy IFB church and Bill Wininger. They attempted to use the time-honored if you didn't see it, it didn't happen defense to silence those of us who aired Bill Wininger's secrets.
Take Jason, a young man who vociferously defended the IFB church movement, King's Way Baptist Church, and Bill Wininger, even though he said he was not a part of the IFB church movement. Here is what Jason had to say about the accusations (spelling in the original, emphases mine).
First Comment
Wow. I haven't heard this much wining in a long time. It's sad when Christians contribute to the pussifacation of America. I would be ashamed if this is how I had to get 15 mins of fame. When I first saw this I thought this was a joke but then I realized you people are serious. There are consequences that come with attacking a man called by God. Everyone who is pointing a finger needs to realize that no person is blameless. I have not seen one bit of proof that proves any of these theories. My advice… Shut up and worry about your own life and let ALMIGHTY GOD worry about everyone else
Second Comment
The definition of pussifacation is the state in which a society becomes less and less tough. As a whole men and women in America are becoming this way. For example I recently read about a man who's daughter was allegedly molested. 20 years later he decides to say something about it. To me this man has no backbone whatsoever and has joined many others in the realms of weak and pathetic. Maybe you should talk to ________. She has shown more backbone in here by standing up for herself and the people she loves. My father taught me to be a man. You asked me what if this happened to your daughter. Let me explain that it would never happen to my daughter simply because child molesters target weak people. This is how they get away with what they do. There would be no getting away with anything should this happen to my daughter and justice would not begin 20 years later. IF any of your accusations hold any truth which I doubt considerably then you should get real life smoking gun evidenced and prosecute. Obviously you dont have this or you wouldnt be wasting time here.
Third Comment
Actually I am not in the ifb. I know this crushes your idea of how narrow minded I must be. However I do not see the point of targeting them out specifically or even more so targeting a single church which seems to be what is happening here. Cassandra the point is that without physical evidence of child molestation BW is innocent of this accusation. Without physical evidence of rape BW is innocent of this accusation as well which means that IF another woman was involved it was consensual.
Bruce how else would a woman excuse a relationship with a married man but pawn it off as "molestation"? In this day and age nothing is personal cultural suicide. You give me the evidence that supports these accusations and I will have concern for these alleged victims. Until then I will support innocence until proven guilty by a court of law. I will not take your moth to the flame approach just because someone made an accusation. Didn't you say "After all, the lies told about a person always make for better news than the truth"? Sounds to me like you have your own koolaid for people to drink. I stand by my words. A year from now they will not be foolish nor will they 10 years from now. You dont want to hear what I have to say because you cant combat it. You deflect everything like you have no idea what to say. Its obvious that you have no idea what to do about my voice so you dismiss me. Sorry to ruin your pity party but there are 2 sides to every story. Here is a thought for you. Instead of blasting away at a man or a church or an entire religion why not open a thread that actually helps people who are truly victims? If your intentions are pure it would not matter what religion or church or person it happened with. Not all victims are from a church or a specific religion. You may even sound like you really care about them instead of sounding like a bitter ex-church member who is using this to harp on the ifb.
Let the words of the greatest preacher since the Apostle Paul, the late Jack Hyles, state the official IFB position on abuse: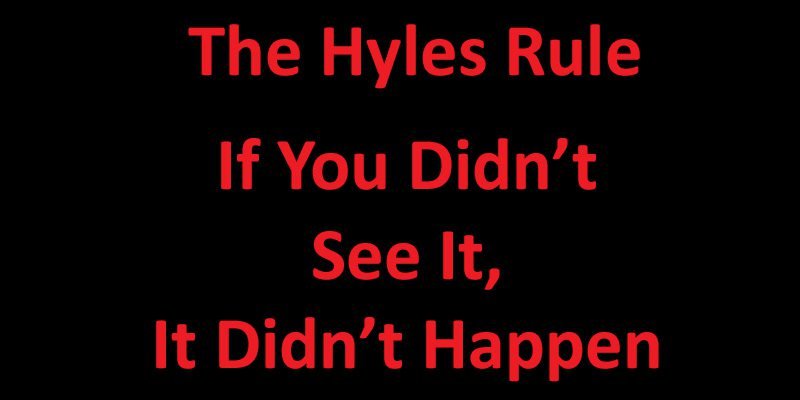 If you have not read the posts If You Didn't See It, It Didn't Happen and Sexual Abuse and the Jack Hyles Rule: If You Didn't See It, It Didn't Happen, I encourage you to do so.
Bruce Gerencser, 66, lives in rural Northwest Ohio with his wife of 45 years. He and his wife have six grown children and thirteen grandchildren. Bruce pastored Evangelical churches for twenty-five years in Ohio, Texas, and Michigan. Bruce left the ministry in 2005, and in 2008 he left Christianity. Bruce is now a humanist and an atheist.
Connect with me on social media:
Your comments are welcome and appreciated. All first-time comments are moderated. Please read the commenting rules before commenting.
You can email Bruce via the Contact Form.