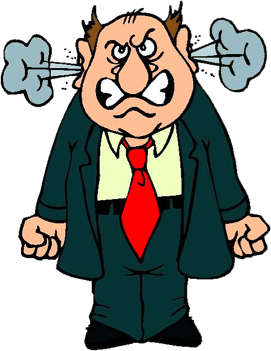 This article was originally written in January 2015. It has been updated and corrected. I stopped writing letters to the editor a few years, returning to doing so last week. I thought readers might appreciate reading how local Christians have responded to my letters. You can find a complete record of responses to my letters here.
Here in Defiance County, I am considered the resident atheist. Every month or so, I write a letter to the editor of the Defiance Crescent-News challenging the dominant Evangelicalism culture found in rural Northwest Ohio. My letters usually bring down the wrath of local Evangelicals on my head. Most responses are little more than sermonizing and Bible-quoting. Worse yet, I find it amazing how many of the responders have a faulty understanding of basic Christian theology and hermeneutics.
In recent years, several other atheists/agnostics have joined me in poking the Evangelical Christian bear. There was one, then two, and now three. Why that makes a godless Trinity. Who knows what the future may hold? Perhaps, we are in the early days of a godless revival.
While my letters to the editor cause much consternation among local Evangelicals and Tea Party members, they are not my intended target. Yeah, it's fun watching them get all riled up, but that's not the reason I write the letters.
In November of 2008, I walked out the doors of the Ney United Methodist Church and have not darkened the door of a Christian church since. This coming September, it will be 19 years since I pastored a church.
I started blogging in 2007, the same year we bought our home in Ney. This online exposure has allowed me to come in contact with local residents who are secretly atheists or agnostics. They fear loss of job, loss of financial stability, and social condemnation, so they stay in the closet. This blog and private email contact with me provide a safe haven for the godless who live near me.
They are the reason I write letters to the editor. The letters are my way of saying you are not alone. I hope that my letters give them strength and courage, and when the time is right, perhaps they too can join the small band of local, vocal atheists.
Not only do local Evangelical zealots respond to my letters, they also send me email, snail mail, and stop by my house. Ney, Ohio has a population of 353 people. Defiance County has an estimated 2012 population of 38,677. There has been zero population growth in the last 35 years. There is only one city in the County, Defiance, with an estimated 2012 population of 16,838. There are three villages in the County, Hicksville, population 3,581, Ney, population 354, and Sherwood, population 827. There are also 12 unincorporated communities. My point in citing the County demographics is to emphasize that Defiance County is rural, quite small, and everyone knows your business (and if they don't they make it up). This is why it is easy for local Evangelicals to find out my address. Those of you who live in big cities can easily blend into the fabric of the metropolis, but I can't do that. I knew the moment I said in public, I am an atheist, that the news would spread far and wide.
What adds to my fame is that I pastored a church in nearby West Unity for seven years. I was born five miles from where I now live. My grandparents owned a farm on the Defiance-Williams County line. I have aunts, uncles, and cousins, scattered here and there. My surname, Gerencser, is Hungarian and quite unique. If you run into someone in this area with the Gerencser name, we are related.
Being related can, at times, pose a problem for my wife and children. Polly and two of my sons work at the same place. It is a huge factory with around 2,000 employees. My other two sons and daughter work for local businesses that put them in frequent contact with the public. When one of my letters hits the editorial page, it is not uncommon for them to hear about it from someone they work with or a customer. I told all of them years ago that they do not have to defend me. In fact, they are free to disown me. So far, I am still their Dad.
More times than I can count, my children have had to answer the question, are you related to the guy who writes in the newspaper? Even at the local college, Northwest State Community College, where Polly and all of my children took classes, professors and students would ask if they were related to me. Usually, the inquisitor is an Evangelical or a Catholic who objects to something I wrote. Every once in a while, someone actually voices their approval or agreement with what I wrote. Such praise is rare, but I'll take it.
One aspect of my Fundamentalist past has helped me in my current role as the resident atheist. As a fundamentalist preacher, I had an unflinching commitment to what I considered truth. Like Shadrach, Meshach, and Abednego in the Bible, I wouldn't bend, bow, or move. So it is today. I don't back down. Now, I am not spoiling for a fight, but if an Evangelical says put your dukes up, I am inclined to do so.
There have been a few occasions where one local zealot has deliberately lied about me in a letter to the editor. Others have cast doubt upon my claim of being a pastor for 25 years. In their mind, they can't comprehend some like me walking away from Jesus. Since they refuse to accept my story at face value, they try to impugn my character, suggesting that there is some "secret" reason I left the ministry and left Christianity. Several have questioned my ethics and morality.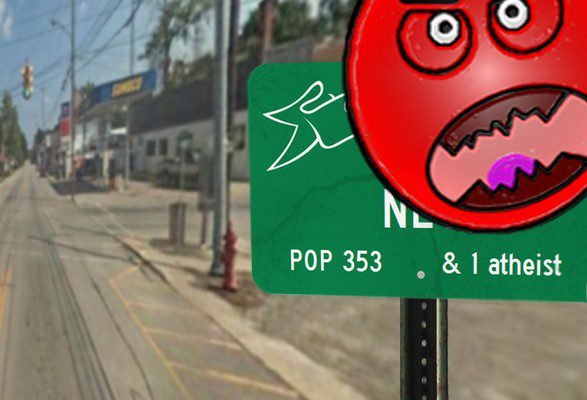 The Defiance Crescent-News is a dying right-wing, libertarian-leaning newspaper. Letters to the Editor are supposed to be about the issues of the day. Slandering someone is usually not permitted. Evidently, if that "someone" is an atheist, it is okay if someone like Daniel Gray or Richard Mastin lies about me. I am not talking about a difference of opinion here. I am talking about slander and lies.
On July 7, 2013, Gray wrote:
Bruce Gerencser should use facts in his letters. His latest rant is so full of errors as to make his point completely obtuse. Here are a few examples…

…The fact that Gerencser can marry anyone is laughable. He received his claimed ministerial credentials by professing a faith in a deity and swearing to follow that religions teachings. So unless he does so, then his authority to marry anyone under the same is null and void. Anyone he marries could actually find that they are not and never have been married. And last, the only way to change our Constitution is by a constitutional amendment…

…History and facts yet again destroy the views of Gerencser. He should be used to that by now.
Here's my response to Gray:
This letter is my brief response to Daniel Gray's recent letter to the editor.

Gray continues to paint me as a liar, a deceiver, immoral, and an all-round bad person. Gray does not know me personally, so I am not sure how he comes to the conclusions he does about me. I have never made one of my letters personal, yet Daniel Gray and a few other letter writers think it is okay to attack my character and suggest that I am not a good person.

As a public figure, I know I must endure such attacks, but I wish my critics would focus on the issues rather than the person. If they would like to have a public discussion on these issues, I am quite willing to participate in any public forum they put together.
On July 21, 2013, I wrote another letter:
For the third time Gray suggests that I am not legally able to marry people and that anyone married by me is in danger of having their marriage invalidated. Gray seems to not understand the legal requirements for being licensed to marry people in Ohio. I meet all the statutory requirements and I am duly licensed to marry people in Ohio. Anyone can verify this by doing a ministerial license search on the Ohio Secretary of state's website.
On August 25 , 2013, fellow shit stirrer Willy Pack, came to my defense:
…Our secular government guarantees all of its citizens freedom of religion and freedom of speech. Fundamentalists, however, have made many clumsy attempts aimed at silencing Mr. Gerencser through intimidation and denigration.

Can anyone doubt that if they had the power of past ages, they would summon him before the court of the Inquisition? They all seem to be vying for the position of head inquisitor. What would be his crime other than not sharing their beliefs and daring to say so publicly? Are they really that intolerant of others' beliefs or just afraid their beliefs cannot stand up to a little scrutiny?

With all of the different religions, denominations and sects on this planet, one thing is for certain: We are all going to hell according to somebody's religion.
Let me conclude this post with several other letters to the editor that offended Christians have written about me.
September 14, 2014, Gary Grant wrote:
This letter is a response to Bruce Gerencser. The first question is why he is so hateful toward Christians and their belief in the God of the Bible.

I first read his article in the Sunday, Sept. 7 opinion page. It really gets frustrating to read his responses to Christians. His arrogance toward the word of God is nothing short of sheer stupidity. He acts like he knows more about God than God Himself.

Is Gerencser an atheist? If God's word is just a joke and only stupid idiots believe it, why is Gerencser so interested in destroying it? What is he afraid of? Indeed, he should be afraid because if he dies without Christ in his life, he is in for a major shock. Why is he taking such a huge gamble with his life? I've been a Christian for over 40 years and don't regret one second of it.

As far as creationism in schools, what's the problem? I let people see both sides. Did Gerencser evolve from a monkey? What does he believe? How did we get here? There has to be a divine creator, to believe otherwise is to empty your brain of any rational intelligence.

Gerencser should turn his life over to Him before it's too late. He could be a modern-day Apostle Paul.
May 1 ,2013, Richard Mastin wrote:
I's true I don't know Bruce Gerencser. His own words explain as I never could. Bruce wrote that "I object to any attempt to codify the teachings and commands of the Bible into the laws of the United States."

Doesn't he know that our system of life, government, laws and three branches was designed based on the Bible?

He objects to Christians trying to make biblical morality the law of the land. It's been unwritten and in some instances written law until atheists and liberals started outlawing God in the 1960s.

Separation of church and state didn't exist until 1947 when the atheistic ACLU and a supreme court justice, with approval of our Democrat-controlled House, Senate and presidency forced it on us. We're losing our foundation. Government-controlled medicine is forced today.

The rights of church and state were always flexible and tolerant of the other until liberal domination in recent years. Bruce isn't for tolerance. He wants organizations like the Christian-backed Boy Scouts to be forced to lower their moral standards to accept homosexual leaders.

Bruce wants to put the fox in the henhouse. He cares for the rights of gay persons, but not of those whose moral values lie with biblical teaching. He would destroy thousands to attain this and be happy about it. It would destroy the Scout oath.

He wrote: "I live by the precept of not doing harm to others, but be respectful of them." Facts prove homosexual behavior is destructive to families, especially youth, and yet Bruce wants laws placing homosexuals in the their midst, hurting and destroying many. Hypocrite and disrespect come to mind.

I don't consider any person moral who attempts to destroy Boy Scout high moral values. Bruce calls the Bible antiquated and irrelevant. Being an ex-pastor he knows God destroyed Sodom and Gomorrah for their immoral homosexuality. If you or he think God won't bring judgment on us, you're wrong. This is about destroying the Boy Scouts, not equal protection for gays. His immoral atheistic ideals will bring national suicide.

The further we drift from Christianity and moral values the closer national death comes. We must stand strong behind the Boy Scouts. If homosexual leaders are permitted, the Cub Scouts, Brownies, Girl Scouts, 4-H, Campus Life and all other youth organizations will be forced to accept this immoral lifestyle and America will die.

Death is knocking on America's door. America is like a 100-year-old barely holding onto life. If Bruce's immoral desires don't kill us, government's anti-God attitude and subsidized medicine will. We must return to God now; tomorrow will be too late.
March 3, 2013, Daniel Gray wrote:
I wonder what reality Bruce Gerencser is in as it obviously isn't where the rest of us are.

First, no one can be called a "bigot" if they are against homosexuality. Every dictionary and encyclopedia classifies bigotry as as having a bias or hatred against a group or person because of their religion-race-creed or disability, it says nothing about homosexuality; as such it is a lifestyle.

You cannot be bigoted against a lifestyle no matter how much Gerencser wishes as there is no medical nor scientific proof that homosexuality is genetic or people were "born that way". As such, it isn't genetic by all available present scientific and medical standards; that leaves it to be a lifestyle. Thus Gerencser's left-wing wishes are just childish schoolyard name calling. I expected better…

…Gerencser had better hope his wish does not come true as a person of the same religious denomination he claims to have received his pastoral license from could turn him into the ruling body and send clippings of his letters. That ruling body could very well vacate his pastoral license for not following the teachings of the denomination he claims to have been part of, thus making his ability to marry anyone void. There is precedent for this. He could then apply for a justice of the peace license, but I don't think they give them out anymore.

So, in the future may I strongly suggest to Gerencser that he start checking his facts before going off on yet another repeated tirade, especially since he has been proved incorrect on every letter he has sent so far.
January 6, 2013, Kenny Barnes wrote:
I am responding to a Jan. 2 letter to ther editor provided by Mr. Bruce Gerencser.

I am amazed that any lucid person would present an argument concerning a person or an entity that doesn't exist! How can anyone claim to be an atheist under those circumstances? One would have to consider himself a super-intellectual, disregarding his surroundings or be as Psalm 14:1 quotes, " A fool says in his heart, there is no God."

I can't answer that question. It does seem quite hypocritical to me however, that Mr. Gerencser would mention the "proclamation of angels." Who declared the birth of Jesus still applicable today? We Christians, (born-again ) consider that babe in the manger to be God come in the flesh.

Lastly, Mr. Gerencser alludes to premarital sex among Christians. He seems to have lost all regard to pre-marital sex among ethnic groups. Babies born out of wedlock reach an astounding 73 percent.

Yet Mr. Gerencser considers his personal morality and ethics to be judged by his spouse, his children, his grandchildren, friends and neighbors. I don't question them at all. I would suggest that he take his family and friends on a one week trip to the beautiful city of San Francisco, eat at some of the city's finest restaurants and explain how our country is maturing, when at the tables next to them, people are dining completely nude. That's progress isn't it?
December 19, 2012 Gary Luderman wrote:
I am responding to an article in the Dec. 12 issue of The Crescent-News by Mr. Bruce Gerencser titled, "GOP is now an 'extremist party.'"

The title piqued my interest enough that I took time to read the entire article. I take no pleasure whatsoever in stating that I found the letter rather intellectually vacuous. (Wait a minute, saying that didn't make me feel that badly at all.)

First of all, this was not really a letter against the GOP as it was against Christian morality. Anyway, it appears that Mr. Gerencser does not believe in any moral standards — at least not those of the Christian faith. Not only that, but I gather from the tone of his letter that he feels intellectually and morally superior to people that do. Well, then let me ask two questions:

1. If Gerencser doesn't like God's rules, then whose rules are we to use? His?

2. Doesn't Gerencser have any rules or standards at all? Is there nothing that anyone can do that he would not approve of or try to stop? Think about it, if there is just one thing that he doesn't approve (for example, Christian values), then he is just as bad as GOP Christians. If not, then who is he to set any rules or have any opinions at all? Again, if there is no God, then who makes up the rules?

But there is a much larger issue. His philosophy not only affects you and yours, it is affecting and destroying the heart of our nation. If there are no rules or standards, then no one is free and no one is safe.

Is everybody and everything to be constantly changed and believed by the latest and largest lobby group that arises? Would you like to set up a committee to make moral decisions according to the latest polls?

Mr. Gerencser's beliefs and thought processes have been around since almost the beginning of mankind. He presents nothing new, modern or enlightened. All he is doing is what mankind has always done — not liking God's rules, therefore thinking that God is wrong and mankind is right. He takes the place of God and is hell-bent on making God into his own image. As a Republican, I will pray for him.
June 17, 2012, Maggie Spangler wrote:
Mr. Gerencser is trying to undermine the historical importance the Bible played in the building of our country's government by villainizing it and by stating; "that the moral code of conduct of a particular religion has no business being codified into law within a secular state".

What is the Bible? It's a book, an inanimate object. Mr. Gerencser states that; "The Bible has been used in the past to justify all kinds of vile behavior." The Bible itself is not responsible for any of the reprehensible acts that have been committed throughout history and have been justified by misquoting the Bible. It is the person behind the act that is responsible; not just for committing them but also for using the Bible in a lie to further their own agenda. No one will inherit the kingdom of God, if the Bible is to be taken literally…

…We the United States of America are not a secular state, but a constitutional republic. Our Founding Fathers created our government based upon the Constitution which was based upon three separate documents: the Declaration of Independence, the Magna Carta and the Bible. Because of this our government is controlled by the Constitution. That is why it is called a, "living, breathing document". We have been a Christian nation from the very beginning and many of us still are. Because our Constitution was based upon the Bible, that our government is based upon the Bible and the only way to change that is to change the Constitution. Hence, the fight we have been having over the last several decades.

Mr. Gerencser also stated that, "Our legal system should reflect what is best for the American people. How best to live as a pluralistic people in a secular state."

Do you know what the second sentence in his quote means? Pluralism is the theory that a multitude of groups should govern the United States, not the people as a whole. These groups or organizations include trade unions, civil rights activists, environmentalists and business or financial lobbyists.

…A secular state remains neutral in matters of religion and treats all its citizens equal regardless of religion. Our Founding Fathers did not want our fledgling country to be sucked back into what they had just left where your religious stance could get you killed, and they wanted God to be the father of our nation. It all comes down to one thing: Do you believe in God?…
January 16, 2011, Larry Tonjes wrote:
In reply to Bruce Gerencser's letter of Dec. 19 that this is a Christian nation, my belief as a "theocrat" is that no matter how determined any human wants to be, including Bruce Gerencser, to run away from God, it can't be done.

The word "theocracy" is defined as "rule by divine authority." Yes, America has had "war, torture, homophobia (not defined in the dictionary), amoral capitalism, economic collapse, the destruction of the working class and punitive political policies that punish and hurt the poor" as Gerencser mentions, but name me a nation that hasn't had these problems.

According to the Bible and science, these problems are products of the human condition. In the insurance industry this used to be called "inherent vice," meaning that everything in this world has an inherited flaw because it is of this world, a flawed world filled with flawed humans and flawed material to work with. The flawed problems mentioned have been endured through every type of government known to man, including Islam, communism, socialism, Judaism, Hinduism, Taoism, Shintoism, democracy. Bruce Gerencser is looking for a scapegoat because Christianity hasn't solved all our nation's problems, so he is looking to the current progressive movement for salvation…
August 25, 2010 Bob Palczewski wrote:
I cannot help but wonder what would make someone who has read the Bible (assuming the entire Bible from cover to cover), attended a Christian college (attending a Christian college does not make one a Christian) and been an evangelical pastor change his mind and become an agnostic humanist.

Richard Dawkins in his book, The God Delusion, contains a chapter entitled "The Poverty of Agnosticism."

Dawkins is a renowned atheist, and you are probably wondering why I quote an atheist to make a point. In the said chapter he discusses many points concerning agnosticism but I would like to point out two items of interest. First he observes there is an "agnostic spectrum," varying degrees of agnosticism, ranging from one — "I believe in God but have a lot of questions concerning his existence" — to seven — "I do not believe in God, period."

Second, he also mentions two types of agnosticism — a temporary agnosticism in practice and a permanent agnosticism in principle. I wonder where Mr. Gerencser stands.

If he was once enlightened and has fallen as far as agnosticism, then there is still hope. The next step is apostasy on which the Bible is very clear. If he has sincerely studied the Scriptures then he knows what I am referring to (Hebrews 6). If not, then he should, perhaps, rethink his position. And, yes, I know his position on the inerrancy of scripture. However, the Bible is as relevant today as it was then.
August 17, 2010, R.L. Wellman wrote:
This is in reply to Bruce Gerencser's letter on Aug. 8. There is only one thing he wrote that I can agree with — that is you only have 500 words or less to respond to a letter that is full of untruths and assumptions.

Not everyone believes in God or the Bible. This is where the problem arises. Every other religion in the world talks about how their God or ways are the only way that's right. Agnostics, from the Greek word agnostos means, "to not know," and agnostic is one who admits, "I don't know."

There is only one true God. This is the Being who made each and everyone of us in his likeness and gave us a mind and will of our own. This is the same God who inspired the prophets of old to write the Bible, His Word. The Bible may not be a supernatural book, but it is His Word. The last book was written 1,900 years ago and is still as relevant today as when it was written….

With a humanistic worldview that focuses on the here and now, you don't have to be good. You can do anything you want, take anything you want, because when you die that's it. Bruce assumes Christians have no life, no joy, not living and loving. He said they trudge through a wicked world in search of heaven or eternal reward. If this is what he did, no wonder he became agnostic.

God means different things to different people. No two Christians have all the same rules to follow. That's one reason different views exist. I don't know about you, but I would rather not live in a world that doesn't believe in God. It would be everyone for themselves, anything goes. If it feels good, do it. You can look and see what is happening in the United States today and it doesn't take long to figure out we are headed away from God and in the wrong direction….
August 17, 2010, Daniel Gray wrote:
…But my other question would be while Gerencser claims to have been a pastor for 25 years and since being an agnostic is one step above being an atheist, as both of them deny the existence of a deity according to every encyclopedia and dictionary out there, is Gerencser now freely admitting that he was living a lie and that his whole life before becoming agnostic was a fraud?

And, if he was a pastor, then what about all the people he was supposed to lead? Is he now admitting that he deceived them as well? And, why bother becoming a pastor in the first place if you were just going to turn your back on your chosen religion, especially one that he has never mentioned? Something about his claim just does not sound correct…
October 14, 2009,Daniel Gray wrote:
…Gerencser himself then states "it would be easy to dismiss the right-wing fringe as tinfoil hat-wearing poorly educated kooks." Why ask for civil discourse and then insult the same people? He claims to be a pastor, then freely admits he is a socialist? You cannot be both as this is like oil and water — they don't mix. I find it very disturbing that a pastor would play fast and loose with the truth just to try and score political points….
March 4, 2009, Deb Joseph wrote:
This is in response to Mr. Gerencser's letter to the editor on abortion. Wow! Sir, you are way off the mark when it comes to pro-life. This is what is wrong with the direction of this country. You cannot compromise murder. The commandment is "Thou Shall Not Kill." It's quite straight forward. The Bible does not say "Thou shall not kill, unless it is in the first few weeks of a pregnancy". If, sir, you are a true Christian, you believe that there is one God Almighty, Creator of All. You also agree that God is capable of anything. So you would have to conclude that if God intended a pregnancy to last in only the final 30 weeks, it would be so. The final weeks are only possible with the first few. This completes God's cycle. This is how He has said it will be. This is how He has designed it. By no means am I being your judge…

… Mr. Gerencser, you can call yourself a Democrat or a Republican, but with views like yours on abortion, you are a far cry from a Christian…
As far as my credentials are concerned, I am thrice ordained and licensed to marry people by the state of Ohio: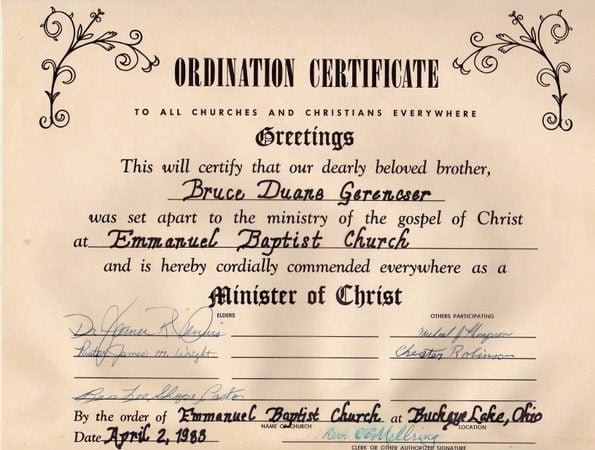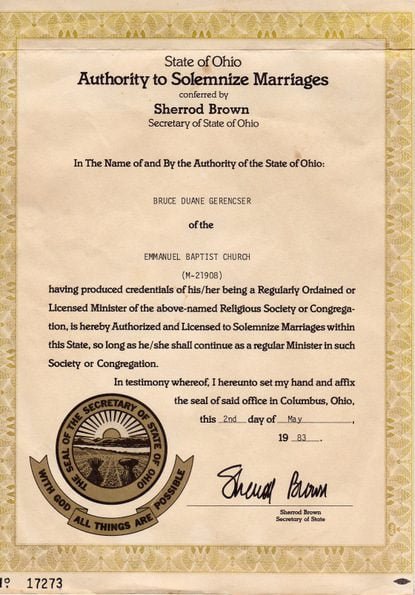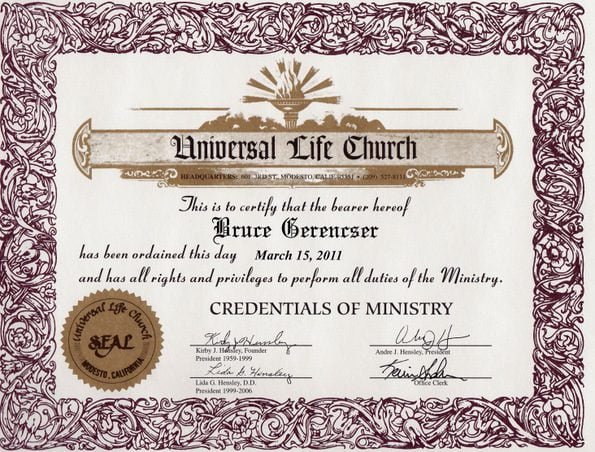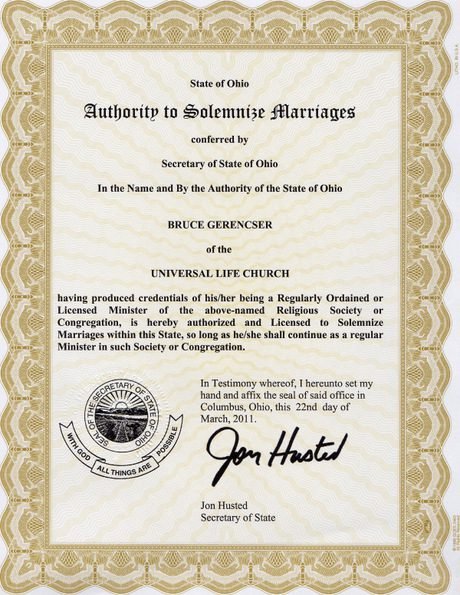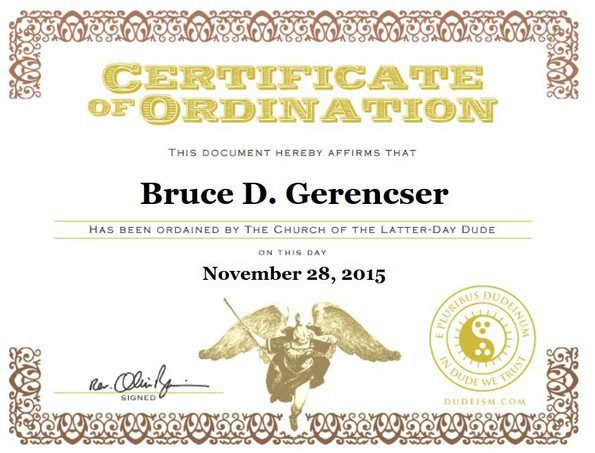 And here's the final proof, straight from the Ohio Secretary of State's Minister Licensing database: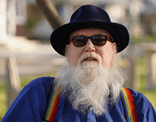 Bruce Gerencser, 65, lives in rural Northwest Ohio with his wife of 44 years. He and his wife have six grown children and thirteen grandchildren. Bruce pastored Evangelical churches for twenty-five years in Ohio, Texas, and Michigan. Bruce left the ministry in 2005, and in 2008 he left Christianity. Bruce is now a humanist and an atheist.
Connect with me on social media:
You can email Bruce via the Contact Form.
Your comments are welcome and appreciated. All first-time comments are moderated. Please read the commenting rules before commenting.