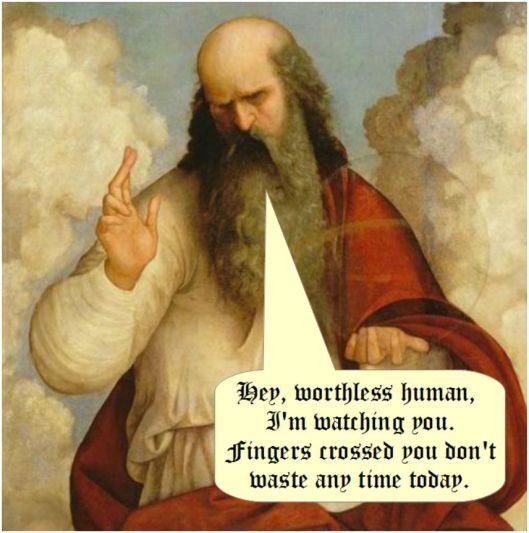 A guest post by Neil Robinson. Neil blogs at Rejecting Jesus.
One of the most liberating aspects of jettisoning Christianity was the realisation that nothing I did had cosmic significance. Nothing anybody does has cosmic significance. Yet to hear the cult's leaders and spokesmen talk, now as then, everything matters.
First and foremost, what you believe determines whether you lived forever in Heaven or not. Can you credit that: what you believe! So better get that doctrine sorted out! Right thought makes all the difference. Believe something only minimally unorthodox and your eternal life is in jeopardy. Not only that, but what you think in the privacy of your own head, about issues like abortion, homosexuality, politics and society, is subject to the Lord's scrutiny. Better get it right – 'right' being the operative term. It means recognising that the Almighty is really only interested in the USA; with the exception of Israel, he hasn't much interest in other nations, so better get your thinking straight on that score too, buddy.
God is, or so his self-appointed mouthpieces like to tell you, obsessively interested in how you, as an individual, spend your time, the language you use, and whether you're a faithful steward of the money he supplies (a.k.a. the money you earn for yourself). He lays it on your heart about how you should spend your time, the only valuable way of doing so being in the service of his Kingdom-that-never-comes.
You're made to feel that if your marriage isn't close to perfection then you're not really working at it (though god knows the 'Biblical view' of marriage is nothing like the one promoted by today's Christian leaders). You're made to feel you must share the gospel with everyone else you have relationships with: children, friends, colleagues, acquaintances, complete strangers. Don't they too deserve to have a chance at eternal life? You don't want them denied it because you failed to speak up, do you? Well, do you?
And then there's the guilt when you can't do all of this. You're not sure you believe all the right stuff. You think you do but then you're told about some point of doctrine you hadn't considered and it is, apparently, really essential you believe that too. So you consult the Holy Spirit who you think lives in your heart and you wonder why he hasn't spoken up before now. Maybe you have liberal views about abortion. And really, you can't find it in yourself to condemn all those 'sodomites' you're told about; what difference does it make if you do or don't? And your marriage is less than perfect. In fact, it's a little bit messy, like human relationships tend to be, and sometimes you want just to relax, maybe laze a little bit. Not everything you do has to contribute to the Kingdom, after all.
But the guilt won't let you. What kind of Christian are you, anyway? And as for witnessing at every opportunity, you wonder why you feel like a dog that's compelled to pee at every lamp-post. Can't friends just be friends? Can't you just appreciate others for who they are, not as sinners who need saving? Apparently not.
What a wonderful release it is then, when you finally realise that none of this crap matters. Nothing you do, say or think makes the slightest bit of difference to whether you or others live forever (Spoiler: you won't, they won't). How you act may help others feel a bit better about themselves or provide you with a sense of fulfilment but that's the extent of it. Outside your immediate context, you're insignificant, and there's great significance to that. The pressure is off; God is not watching you to see whether you're a good and faithful servant. Your time, money, and thoughts are yours and yours alone. It's entirely up to you how you use them, free from the tyranny of religion.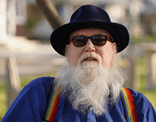 Bruce Gerencser, 65, lives in rural Northwest Ohio with his wife of 44 years. He and his wife have six grown children and thirteen grandchildren. Bruce pastored Evangelical churches for twenty-five years in Ohio, Texas, and Michigan. Bruce left the ministry in 2005, and in 2008 he left Christianity. Bruce is now a humanist and an atheist.
Connect with me on social media:
You can email Bruce via the Contact Form.
Your comments are welcome and appreciated. All first-time comments are moderated. Please read the commenting rules before commenting.