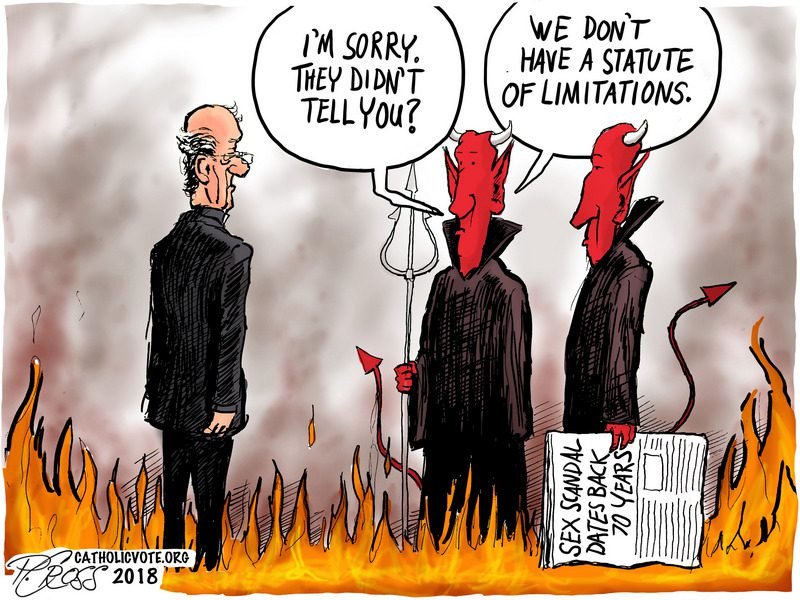 Guest post by by MJ Lisbeth
New York City and State are often seen as liberal, progressive bastions in a conservative nation. Indeed, The Big Apple was a leader in passing laws to protect the rights of tenants, workers and LGBT people, and The Empire State legalized abortion and same-sex marriage before other states and the Federal Government got around to doing the same.
Even so, the city and state have other statutes that seem retrograde and even racist compared to other states. An example of racism is in voting: It's more difficult to do than in just about any other city or state. And the things that make voting difficult almost invariably place the greatest burdens on the poor, and on ethnic and racial minorities.
Among the laws that are simply retrograde are the ones that governed the reporting of child sexual abuse. Currently, criminal or civil charges can be brought against an abuser until the victim's 23rd birthday. Only Alabama and Mississippi have more restrictive regulations, while nine other states have no statute of limitations at all.
So why does one of the "blue" islands in a sea of "red" have laws that, frankly, do more to protect the perpetrators than the survivors? One could argue that New York passed such legislation a long time ago, when it didn't seem quite so restrictive, and simply didn't bother to change. That could be said about the state's abortion laws, which allow the procedure up to 24 weeks into the pregnancy. When the law was passed, three years before Roe vs Wade, most states still didn't allow abortion at all. But, after Roe vs Wade, the relative strength or weakness of New York law didn't matter, because Federal rulings supersede state statutes.
Likewise, when the state's current regulations about reporting child abuse were enacted, they may well have been more progressive than those of other states—if, indeed those states had them. Indeed, there was little or no discussion of the issue, and there was a common belief that the victim was somehow at fault—or, at least, should just "move on." But now the time is long past to acknowledge the pain and suffering too many of us have carried—in some cases, for decades, or even to our graves—and to allow us to achieve whatever measure of justice may be available to us.
On Monday, the New York State Assembly passed, by a vote of 130-3, a bill that would allow prosecutors to bring criminal charges against a perpetrator until the victim's 28th birthday. It would also give victims the right to sue until they turn 55. In the Senate, every single senator, Democrat and Republican, voted in favor of that same bill, which Governor Andrew Cuomo has promised to sign into law.
If you want to know why this law is so necessary, all you had to do was watch—and, more important, listen—to the press conference that followed the vote in the state Capitol. It included testimony from survivors, some of whom were the very legislators who voted for the bill. A few of them were talking about their abuse for the very first time.
That grown men and women were breaking the silence around sexual abuse they experienced as children and teenagers is a measure of how the law is necessary—yet still inadequate. There are still many of us who grew up in places and times where such abuse wasn't discussed because the authority of abusers wasn't questioned. Moreover, whatever education we received included no lessons about our bodies: As I recounted in an earlier essay, when a priest molested me, I didn't even know the names of the parts of my body he touched.
The incidents I can recall most vividly and terrifyingly happened between my ninth and tenth birthdays. I did not talk about them with anybody for nearly half a century. So, even with the new law, I would not be eligible to sue. Many other people my age, or older, are in similar situations.
If some lawyer for the Diocese of Brooklyn (where I was abused) is reading this, he or she is breathing a sigh of relief. There are surely many others like me (I've talked to a few), and the Diocese and Roman Catholic Church know it. So, I am sure, do many other religious organizations as well as insurance companies and the Boy Scouts of America.
Those organizations are the chief reasons why New York has taken so long to pass legislation to widen the statute of limitations for reporting child abuse. One thing about New York's "liberalness" is that it allows freedom not only to racial, ethnic and sexual minorities, but also to reactionary religious sects. That is why, for example, ultra-Orthodox Jews can influence New York's elections and public policy in ways they never could anywhere else in the United States. It has also, for nearly two centuries, given the Catholic Church influence it has never enjoyed anyplace else in the nation, save perhaps in Boston, Rhode Island and Louisiana.
Those religious organizations are also the reasons why the bill isn't as strong as it could be. Lawsuits from survivors are already bankrupting dioceses in other parts of the country; the Archdiocese of New York and the Dioceses of Brooklyn and Buffalo surely know that they could suffer the same fate. I am sure that other religious governing bodies came to the same realization. Just two weeks before the bill's passage, Cardinal Dolan wrote an opinion piece declaring that he had to protect the church from Governor Cuomo's efforts to "single out the church and weaken its ministry."
But the state's bishops realized they were fighting a losing battle. They said they would support the bill as long as it applied equally to public and private institutions. Then Dennis Poust, one of their spokesmen, said the bishops would call for even stronger protections than the ones provided in the new Child Victims Act.
Those bishops, along with other religious leaders in the State, did everything they could to stop the bill from passing until they knew it was going to pass. But, just as Roe vs Wade galvanized anti-abortion activists, I believe that passage of the law—as welcome as it is, at least in comparison to what it's replacing—will cause those bishops, as well as the clerical and lay leaders of other religious organizations, to do whatever they can to keep victims from exercising their rights under the law. That is why we, the ones who were abused by priests and other religious leaders, need to be as vigilant as pro-choice activists have had to be in the 46 years since Roe vs. Wade. Especially in "deep blue" New York.
Other posts by MJ Lisbeth
Sexual Abuse Victims Have the Right To Be Heard — Whenever They Are Ready
Forgiveness is Not Enough, When it Comes to Healing for Sexual Abuse Victims
Abuse and Alienation: In The Church, Away From Yourself
Off My Knees: A Victim Remembers
Everybody But the Church Understands
Sexual Abuse and the Catholic Church: Eternally Shielded in Rome