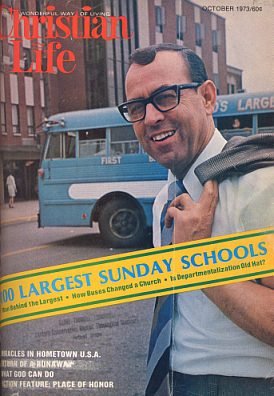 Jack Hyles was pastor of First Baptist Church in Hammond, Indiana from 1959-2001. For many years, the church was the largest congregation in America. The church held a Pastor's School and Youth Conference each year that brought thousands of people to Hammond to see first hand what God was doing through Dr. Jack Hyles. (See post The Legacy of Jack Hyles.)
In the Independent Fundamentalist Baptist (IFB) church movement, no one was bigger than Jack Hyles. IFB churches and pastors measured success by:
Church attendance
Offerings
Souls saved
In these three areas Jack Hyles and First Baptist Church were the king of the hill.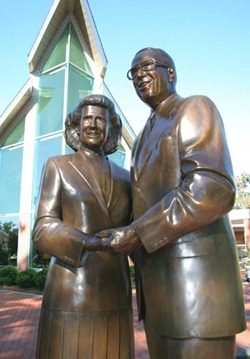 Like most IFB churches, First Baptist Church was owned and operated by Jack Hyles. No, Hyles didn't literally own the church, but there was no doubt about one thing, this was the house Jack built. Hyles had unlimited power to rule the church as he saw fit, and even when caught in an inappropriate sexual relationship with his secretary, he was able to wiggle free, and remained pastor of First Baptist Church until he died on February 6, 2001.  A statute of Jack and Beverly Hyles can be found in the church courtyard, an ever-present reminder that First Baptist Church owes its existence to Jack Hyles.
People not raised, schooled, and indoctrinated in the IFB church movement often have a hard time understanding how Jack Hyles could wield such power over people.  It seems so "cultic" to them, and truth be told, there are elements of IFB belief and practice that are "cultic." While the IFB church movement is not a cult in the classic sense, it does have beliefs and practices that are harmful to people emotionally and mentally. Because it is a movement built on a foundation of anti-intellectualism, pastors are given an inordinate amount of power over people. The pastor becomes the resident intellectual, even though he is likely no more educated than the people in the pew. The pastor is considered God's chosen man, the man of God who speaks on God's behalf. He is uniquely called by God to the ministry and he is to be obeyed. Failure to obey will bring judgment from God, at least according to IFB preachers. (Sermons on pastoral authority are quite common in IFB churches.)
Jack Hyles was considered a god in IFB church circles. He was also revered by many outside of the IFB church movement. People read his sermons in the Sword of the Lord, and cassette recordings of Hyles' sermons made their way around the globe. He was the Big Kahuna, and when he spoke everybody listened. It is important to understand how popular Hyles was.  People would drive hours to hear him preach at a Sword of the Lord Conference. They would hang on his every word. After all, look at the size of his church. This is PROOF that Hyles and God were on a first name basis.  When it came time for the invitation, hundreds of penitent Baptists would stream down the aisle to the altar and prostrate themselves before Hyles, praying that God would forgive them of their sins and give them Holy Ghost power to do whatever Hyles was telling them to do.
It is hard for me to admit, even to this day, that I was a part of this; that the  churches I pastored participated in this. (I left the IFB church movement in the late 1980s.) It is hard to admit that I was caught up in a religion that encouraged worshiping men as gods. Hyles, like Bob Jones, even had a college named after him: Hyles-Anderson College.
Granted, any time a group of people gather together under a common belief or ideal, there is the tendency to elevate certain people to god-like status within the group. IFB churches do it, Evangelicals do it, and yes, even atheists do it. Look at the typical Atheist/Humanist conference and you see the same speakers over and over. To some degree, it is human nature to fawn over those we think are in some way unique, successful, or who have some sort of special insight.
It has been thirty years since I heard Jack Hyles preach. I heard him preach many times during the heyday of the IFB movement — the late 1960s to the late 1980s. I would attend Sword of the Lord conferences whenever I could . Sometimes, I drove several hours just so I could sit at the feet of great IFB luminaries such as Jack Hyles, Lee Roberson, Lester Roloff,  Bob Gray of Florida, Curtis Hutson, John R. Rice and Tom Malone. (Malone was the President of Midwestern Baptist College, the college I attended from 1976-79. Lester Roloff was accused of promoting child abuse, and Bob Gray of Florida was arrested for molesting children.)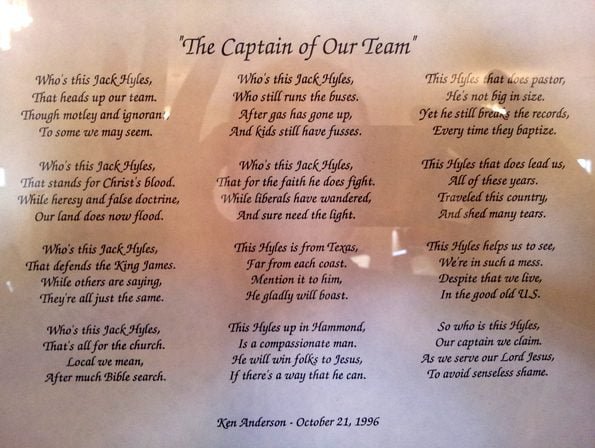 What was it about Jack Hyles that drew people to him (and God is not the right answer)?
Jack Hyles was a superb orator. He knew how to use words, cadence, volume, and inflection to deliver sermons that most preachers could never deliver. As oratorical specimens, his sermons were flawless.  His sermons rarely had much Bible in them since he typically preached textual or topical sermons, but his sermons were perfectly scripted, with each point and sub point in perfect harmony. When Hyles chased a rabbit down the rabbit trail, he did it on purpose. He was methodical and disciplined in his preaching.
Hyles told a lot of stories about himself, his mother, and his feats as a pastor-god. His stories often made up the bulk of his sermon. Young preachers such as myself hung on every word, every story. Here was a man mightily used by God. It was many years before I could divorce myself from my worship of Jack Hyles enough to see his sermons for what they really were; grandiose brag sessions of a narcissist. I also came to see that the stories Hyles told were often lies or distortions of the truth, though I am inclined to think that Hyles really believed his own narrative.
The IFB church movement prides itself on being anti-cultural. The movement is known for what it is against and not for what it is for. In his sermons, Hyles would rail against Southern Baptists, The National Council of Churches, Evangelicals, pants on women, alcohol drinking, sex, and any other ill he deemed "worldly" or contrary to the received truth of the IFB church movement.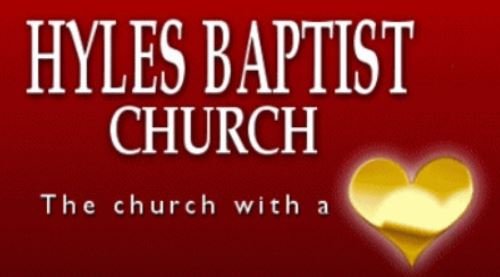 When Hyles would preach against these things, his words elicited deep emotional and physical response. People would shout or say Amen or Preach it, Brother Hyles. People would stream down the aisles to confess their sin, their disobedience to God. The Sword of Lord would report the "number" of people  who came forward. (The IFB follows a corporate model, dominated by numbers.) If you want to see how the numbers racket works, read Bob Gray of Texas's blog. A Hyles disciple, trained at Hyles-Anderson College, he knows exactly how many souls have been saved under his ministry. He is the ultimate IFB bean-counter.
When preaching at a conference, Hyles would often have an afternoon Question and Answer time for preachers. Young, aspiring preachers, along with old struggling preachers, could ask Hyles questions about building a great church. I can't tell you the number of times I saw Hyles eviscerate a preacher because he asked the wrong question. One time, a young preacher asked a question about how to choose a good youth director — not that Hyles would know since his son, serial adulterer, David Hyles was the youth director at First Baptist. Hyles asked the young man how big his church was and after the young preacher told him, Hyles belittled him and accused him of being lazy. The young preacher should have felt humiliated, but he more likely felt that "God" was speaking to him through Brother Hyles. Hyles, like many top shelf IFB preachers, could be a bully.
Hyles liked to give off an air of invincibility. His illustrations made him seem like a man who could charge into the flames of hell and come out without one hair singed on his head. He told illustrations such as:
There were two men playing tennis and at the end of the game, the loser graciously shook the hand of the winner.

Bro. Hyles, how do you handle losing (code for failure)?

Hyles would thunder, I don't know, I've never lost.
And then he would preach forcefully and loudly about not being a loser, a quitter.
When you take all these things together, it is easy to see why Jack Hyles was, and still is, worshiped. Some consider him the greatest preacher since the Apostle Paul. I understand how people become mesmerized by the Hyles mystique. However, when a person puts some distance between himself and the IFB church moment, he starts to see that the movement is a man-centered, man-worshiping religion. Are their good, decent people in IFB churches? Sure. For whatever reason, they cannot or will not take off their blinders so they can see things as they really are. IFB-preachers-turned-atheists such as myself have little influence over them because they see us as traitors and God haters.
I wonder what it will take to finally bring the IFB house crashing to the ground? Evidently, sexual scandal won't do it. Maybe it is too much to ask for. After all, the Roman Catholic Church has pedophiles running amok, yet faithful Catholics still show up for mass and give their money to the church.  It seems that we as humans quite easily ignore what is right in front of us.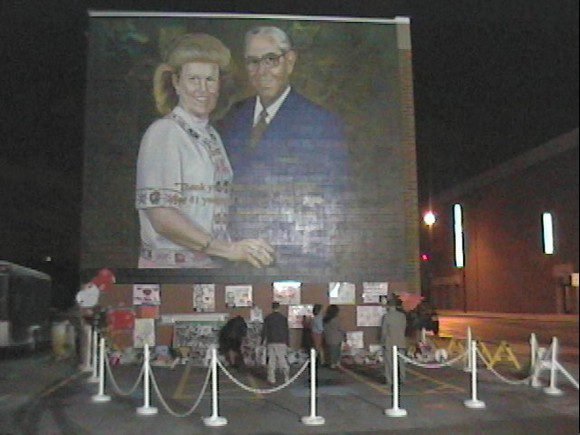 For further information:
Read Andrew Himes' book, The Sword of the Lord, The Roots of Fundamentalism in an American Family.
Read Bryan Smith's Chicago Magazine article, Let Us Prey: Big Trouble at First Baptist Church
Read the Legacy of Jack Hyles
Read the 1980s Biblical Evangelist story on the Jack Hyles scandal
During the uproar over Hyles' illicit affair, loyal Hyles followers wore "100% Hyles" buttons to show their support for Hyles.
071816